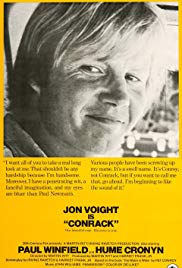 CONRACK
SUBJECTS — U.S./1945 – 1991; Diversity & South Carolina;
SOCIAL-EMOTIONAL LEARNING — Male Role Model; Work/Career; Education;
MORAL-ETHICAL EMPHASIS — Respect.
AGE: 10+; MPAA Rating — PG;
Drama; 1974; 111 minutes; Color. Available from Amazon.com.
A young white man volunteers to teach at a school on one of South Carolina's isolated barrier islands. He finds tremendous cultural deficits among his black students and a racist white educational establishment which doesn't tolerate innovation. The film is based on the book The Water is Wide by Patrick Conroy.
Describe the Gullah culture (see Helpful Background section) and locate Beaufort, South Carolina, on a map. This the nearest city to the fictional Yamacraw Island. Show your child some other sea islands along the southeast coast of the U.S. If your child displays an interest in Gullah culture, have him or her search the Internet for sites relating to the Gullah. Ask the Quick Discussion Question and lead your child through the answer.
Yamacraw Island, the fictional location of the events depicted in this movie, is one of the Sea Islands, a group of low marshy islands located off the coast of Florida, Georgia and South Carolina. Before the Civil War the islands contained large plantations that specialized in growing rice and long staple cotton. After the Civil War the newly freed slaves took over the land and lived in isolation for decades. They developed a distinctive culture and dialect both of which are called "Gullah."
The Gullah dialect is a mixture of several West African languages and pre-Civil War black English. It is not understood by English speaking Americans. Some Gullah words have been absorbed into modern English. They include: "goober," "gumbo," and "voodoo."
Yamacraw Island is said to be just off Beaufort, South Carolina. The major Sea Islands off the South Carolina coast are: St. Helena, Port Royal, Parris and Hilton Head. They are also known as the Barrier Islands.
QUICK DISCUSSION QUESTION:
What was the value of an education to the children Conroy was teaching?
Suggested Response:
It would permit them to taste the outside world, and if they liked it, to leave the islands.
1. See Discussion Questions for Use With any Film that is a Work of Fiction.
2. What was the origin of the Gullah civilization and what were the unique factors that created it?
3. What is the origin of the Gullah dialect?
4. Why were these kids so backward?
SOCIAL-EMOTIONAL LEARNING
EDUCATION
1. Why was it so important to Conroy that the children be permitted to have Halloween on the mainland? Do you agree?
2. What did you think of the principal, Mrs. Scott? What made her the way she was?
WORK
3. If you had been in Conroy's position, would you have dealt with your superiors any differently?
4. Should Conroy have permitted or encouraged the islanders to go on strike to force his reinstatement?
5. Was it important to Conroy to keep his job? Did he act as though it were?
MALE ROLE MODEL
6. Do you think Conrack is a good male role model? What were his strengths and his weaknesses?
MORAL-ETHICAL EMPHASIS (CHARACTER COUNTS)
Discussion Questions Relating to Ethical Issues will facilitate the use of this film to teach ethical principles and critical viewing. Additional questions are set out below.
RESPECT
(Treat others with respect; follow the Golden Rule; Be tolerant of differences; Use good manners, not bad language; Be considerate of the feelings of others; Don't threaten, hit or hurt anyone; Deal peacefully with anger, insults, and disagreements)
1. Evaluate the conduct of the Department of Education officials in light of this Pillar of Character.
ASSIGNMENTS, PROJECTS & ACTIVITIES