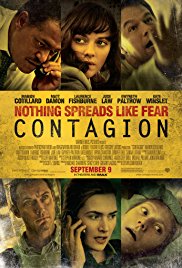 CONTAGION
This Guide has been revised in March of 2020 to make the lesson relevant to the 2020 Covid-19 corona virus pandemic.
SUBJECTS — Health (infectious disease; influenza; pandemics); Medicine; Science-Technology;
SOCIAL-EMOTIONAL LEARNING — Surviving;
MORAL-ETHICAL EMPHASIS — Responsibility.
AGE; 13+
MPAA Rating: PG-13 (for disturbing content and some language – During the Covid-19 coronavirus pandemic, TWM recommends a minimum age of 16 years because the pandemic shown in the film is approximately 10 times more lethal than the Covid-19 pandemic; the scenes of sick and dying people in the film will be especially disturbing in a time of pandemic; Drama; 2011, 106 minutes; Color. Available from Amazon.com.
One of the Best! This movie is on TWM's list of the ten best movies to supplement classes in Health, High School Level.