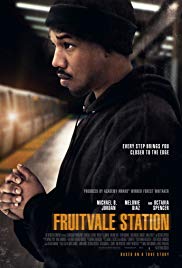 FRUITVALE STATION
SUBJECTS — U.S. 1991 – Current, Diversity & California; Civics;
SOCIAL-EMOTIONAL LEARNING — Human Rights;
MORAL-ETHICAL EMPHASIS — Responsibility.
AGE: 13+; MPAA Rating — Rated R for some violence, language throughout, and some drug use;
Drama; 2013, 87 minutes; Color. Available from Amazon.com.
Special Note:
High schools can help their students by providing guidance about how to act when they are dealing with the police. A key part of that curriculum would include what to do if the student objects to what the police are doing, including situations in which the student believes that he or she or someone else is being wrongfully accused of a crime, wrongfully arrested, or subjected to unlawful force. This film and the materials in this Learning Guide can contribute to that lesson.