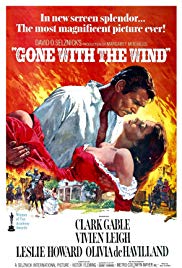 GONE WITH THE WIND
SUBJECTS — U.S./1860 – 1865 & Georgia; Cinema;
SOCIAL-EMOTIONAL LEARNING — Female Role Model (Melanie, and Mammy, not Scarlett);
MORAL-ETHICAL EMPHASIS — General.
AGE: 12+; No MPAA Rating;
Drama; 1939; 231 minutes; Color. Available from Amazon.com.
TWM does not recommend that this movie is shown unless Discussion Questions 1 – 3 are posed to the class. A much better film for the Civil War from the Southern side is the Free State of Jones.