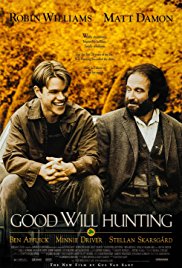 GOOD WILL HUNTING
SUBJECTS — Medicine (Psychiatry); U.S./1991 to Present, Massachusetts;
SOCIAL-EMOTIONAL LEARNING — Child Abuse; Marriage; Romantic Relationships; Fighting; Friendship; Male; Role Model; Talent; Breaking Out;
MORAL-ETHICAL EMPHASIS — Caring.
AGE; 14+
MPAA Rating — R for strong language, including some sex-related dialogue; Drama; 1997; 126 minutes; Color. Available from Amazon.com.
Special Note: TWM strongly suggests turning down the sound during three short scenes containing sex-related dialogue. See Possible Problems section.
One of the Best! This movie is on TWM's list of the ten best movies to supplement classes in Health, High School Level.