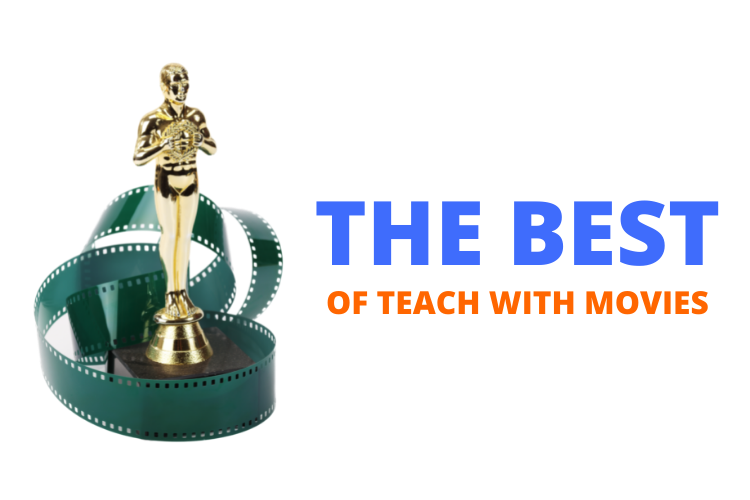 This Learning Guide is dedicated to the memory of the victims and to the survivors, with hope for a better life for the people of Rwanda and the East Africa region.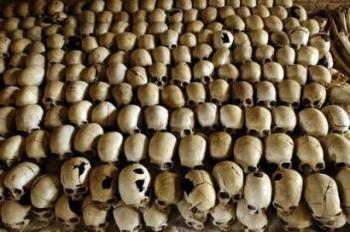 QUICK DISCUSSION QUESTION FOR "HOTEL RWANDA":
At the beginning of the movie, the character of the hotel manager is unwilling to use some of the favors he has stockpiled to help a neighbor. By the end of the movie, his attitude was different. When did this change begin and what caused it?
Suggested Response: 
The hotel manager's attitude changed when he knew people were being killed and he came home to find his house full of frightened neighbors. He realized that he had to try to protect all of them. Later he tried to protect anyone who was able to make it to the Hotel Mille Collines.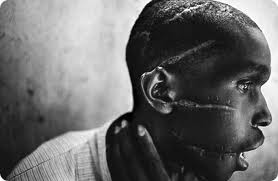 QUICK DISCUSSION QUESTION FOR "SOMETIMES IN APRIL":
Should Augustin forgive his brother, Honore?
Suggested Response:
Honore and all of the genocidaires need to be punished. But this question relates to the personal relationship between the two brothers: should Augustin condemn his brother and renounce all brotherly love? It is generally recognized that there are certain preconditions to forgiveness. The first is that the wrongdoer restore any ill-gotten gains and, to the full extent of his power, make amends. The second is that the wrongdoer recognize the error of his ways, apologize, and reform. It appears that Honore came to understand that he had participated in a crime of monstrous proportions. He changed his plea to "guilty." He had tried to help Augustin's family. However, forgiveness for losing a beloved wife and three children is very difficult.
There is another aspect of forgiveness that is important: the benefit to those who forgive. Moral and religious leaders as well as psychologists tell us that harboring anger and hatred is harmful. It is difficult for victims of crime to heal from their injuries until they have released their anger against the perpetrator.
Here is an example of the importance of forgiveness that recently came to our attention: A man, we will call him Bill, was in his 40s. As a young child, Bill had been the victim of sexual and physical abuse.
Before the age of ten, Bill had suffered two broken legs and a broken arm. The perpetrator was his father. Bill had left home as a young boy and in his 40s he was still bitter. He hadn't visited his family for decades. As his father lay dying, Bill responded to his mother's plea that he come home.
In the hospital room Bill finally came to resolution. This did not come about because his father apologized or sought forgiveness. Bill said that when he saw his father dying, "I recognized my own role in the abuse." He explained that this was not because, as a child, he had done anything to deserve or bring the abuse on himself. (No actions by a child can ever justify an adult crossing the line into child abuse, sexual or physical.) What Bill meant by his "role" was that by not forgiving his father he had kept the wound open. Once Bill let go of his anger and forgave his father on a personal basis, Bill was finally free to heal.
Augustin should forgive Honore as a brother because Honore admitted his guilt and tried to save Augustin's family. He will be punished for his role in the genocide by the court. Augustin needs to heal and get on with his life. His focus should be on marrying Martine and raising his new son. Releasing the bitterness against his brother and the other genocidaires will allow him to find satisfaction in his new life rather than dwelling on the genocide.
MOVIES ON RELATED TOPICS:
A PBS Documentary that can be obtained from some libraries is "Front Line: The Triumph of Evil." This film describes the genocide and the inadequate response of the Western powers. It contains footage shot from about 1000 feet showing people being hacked to death with machetes and of people, who most likely were later killed, begging for protection from white soldiers sent to extricate foreign nationals (almost always white). The film is 60 minutes. The current PBS documentary on sale is 120 minutes and is called "Ghosts of Rwanda."
GENOCIDE:
A word created in 1944 by Dr. Raphael Lemkin. It is derived from the Latin words "geno" meaning race or tribe, and "cadere," meaning "to kill." Examples of words derived from "cadere" are: homicide, suicide, patricide, and infanticide. Dr. Lemkin was one of the few people in his extended family to escape the Nazi death machine.
BUILDING VOCABULARY: "Hotel Rwanda"
genocide, brokered, denounced, Interahamwe, agitators, reprisals, massacres.
BUILDING VOCABULARY: "Sometimes in April":
genocide, proxies, Interahamwe, Inyeri.
When asked by a priest from the Episcopal Church about the role of the Christian clergy in the 1994 Rwandan genocide, Mr. Rusesabagina responded that the Christians in Rwanda remained silent in the face of the genocide and that the Muslims were more active in objecting to it than the Christians [Note that Rwanda is one of the most Christian nations on earth: Roman Catholic 56.5%, Protestant 26%, Adventist 11.1%, Muslim 4.6%, see CIA World Factbook.] The relative lack of protest and even the active complicity in the genocide by established Catholic and other Christian churches, with certain exceptions, is reported by many sources. See e.g., Human Rights Watch and Gérard Prunier inThe Rwanda Crisis – History of a Genocide, Columbia University Press, New York, 1995, p. 250 – 253. Others contend that the role of the clergy and church hierarchy was mixed in the extreme circumstances of the genocide. Sibomana, Hope for Rwandapp. 121 – 136. Note that Mr. Sibomana was a Catholic priest and human rights activist. He was denied the opportunity for medical treatment because of his criticism of the new regime and died in Rwanda in 1998.
Paul Rusesabagina and others report that the only organized religious group to protest the genocide were the Muslims. Rusesabagina Lecture, Los Angeles California, April 4, 2006. "The only faith which provided a bulwark against barbarity for its adherents was Islam. There are many testimonies to the protection members of the Muslim community gave each other and their refusal to divide themselves ethnically." Prunier, above, p. 253.
RWANDA GEOGRAPHY: Rwanda is located in the Great Lakes area of central East Africa, along the Great Rift Valley. The mountainous West of the country borders the Democratic Republic of the Congo, and parts of Uganda to the North and Burundi to the South. Eastern Rwanda is mostly high uplands, which it shares with its neighbor, Tanzania. See free blank map of Rwanda and adjacent countries and CIA Factbook Map of Rwanda
Even after the genocide, Rwanda is the most densely populated country in Africa. In world-wide comparisons, its population density is second only to that of Bangladesh.
The source of the Nile River is in Rwanda.
Most genocides have been explained to the public as being preemptive and defensive. The concept is to get them before they get you.
Some commentators doubt that there would have been a genocide if the Rwandan government had not felt so threatened by the Tutsi rebels returning from Uganda. However, there is no excuse for genocide, ever.
Rebuilding Rwanda with the survivors and the genocidaires living side by side is "as though in 1945 the Jews and the Germans were to live together in Germany after the Holocaust under a Jewish-dominated army…." Melvern, A People Betrayed, p. 222.
"Sometimes in April" ends with a scene of a gacaca meeting.
In a lecture in Los Angeles, California, in April 2006, Paul Rusesabagina, explained why he could not leave the Hotel Mille Collines until the last refugee had been rescued. "I never would have been free. I would have been a prisoner of my own conscience." He went on to say that had he left a refugee in the hotel he would not have been able to enjoy the simple pleasures of life such as being with his wife and children or enjoying a good meal.
Some actual survivors of the genocide played the "swamp people" who were called out of hiding in "Sometimes in April."
The necessity of Justice: Justice is a basic human right. Every human being has a right to have justice done. Acknowledging this universal principle, André Sibomana describes a situation in which a Hutu peasant hid a Tutsi family for several weeks but was finally found out. The militia told him, "'Now prove that you are a good Hutu. … If you don't kill these cockroaches yourself, we will kill your wife and children. Make your choice!' So he killed with his own hand the family he had hidden and fed for several weeks. But that was not enough for the Interahamwe. Before they left, in order to punish this bad Hutu who had been an 'accomplice' of the Tutsi, they killed his wife and children. Today, this peasant is asking 'Who am I? If those militiamen are not punished, then who am I? If they are still free, then what about me, where do I belong?" Sibomana, Hope for Rwanda, p. 105.
Can a country with a repressive government or which has been engulfed by political and social chaos go directly to a multi-party democracy? It is possible but difficult a shown by the struggles of Taiwan, Korea, Iraq, Argentina, Chile, Russia, and the former communist countries of eastern Europe. People in Uganda who remember the terrible regimes of Idi Amin and Milton Obote are grateful for the less than democratic but stable government of Musaveni. In an April, 2006 article in the L.A. Times several Iraqis were reported as having voiced the wish that a "benevolent strongman" — anyone short of Sadam Hussein — would seize power and restore order.
"A three-year-old child who had just seen his siblings killed, pleaded with the attackers to spare his life: 'Please don't kill me. . . . I'll never be Tutsi again'. But the killers, unblinking, struck him down." Power, The Problem from Hell, pg 334.
Some Tutsis paid the Interahamwe to shoot them instead of hacking them to death.
How do you face down a killer? Read the autobiography of Paul Rusesabagina, An Ordinary Man, pp. 88 – 91 and 118 – 120. Should Mr. Rusesabagina have kept up his friendships with men in the Hutu Army or the militia? He contends that it saved his life and the refugees at the Mille Collines, Ibid, p. 128 – 131.
More than 300 children younger than 18 years of age were accused of killing people in the genocide. At least 100,000 Tutsi or children from moderate Hutu families were orphaned by the genocide or kidnapped and taken from their parents. Melvern, A People Betrayed, p. 222
In his April, 2006 lecture in Los Angeles Paul Rusesabagina said, "In Rwanda when you offer someone drink or food and you sit next to him and look him in the eye and ask him for something, it is impossible for him to refuse."
At one point, Clinton's Secretary of State Warren Christopher, had to pull out a map of Africa to see where Rwanda was. Power,The Problem From Hell, page 352.
The Peace Accords are not to blame for the genocide. It was the reaction of Hutu extremists, fearful of losing power and privilege, that caused the problem. In addition, diplomats focused on the Accords, trying to keep them alive even while genocide was occurring. This made them reluctant to further alienate the Rwandan government out of fear that the government would withdraw completely form the Arusha Accords.
Colonel Bagosora is now on trial before the International War Crimes Tribunal in Arusha. He is not to be confused with Lt. Colonel Bizimungu, who is shown in Hotel Rwanda negotiating with Paul Rusesabagina over the fate of the refugees.
Important Documents: The Dallaire Fax informing the U.N. in January that Hutu extremists were planning a genocide. See also Bushnell Cable. For more documents, see The US and the Genocide in Rwanda 1994 Evidence of Inaction, William Ferroggiaro, Editor, at the National Security Archive.
"Is it Tutsi and Hutu or Tutu and Hutsi?" questioned a member of Lt General Wesley Clarke's staff after Habyarimana's plane crashed. Power, Bystanders to Genocide, Atlantic Monthly, September 2001.
Interahamwe is roughly translated as "those who fight together"
During the negotiations in Arusha, Rwandan Army Colonel Bagosora walked out saying that he was going back to Rwanda to prepare the second apocalypse. Melvern, A People Betrayed p. 54.
Both movies show clips of Christine Shelley, the State Department spokesperson, twisting herself into a pretzel to avoid using the "g" word:
Reporter: How would you describe the events taking place in Rwanda?
State Department Spokesperson: Based on the evidence we have seen from observations on the ground, we have every reason to believe that acts of genocide have occurred in Rwanda.
Reporter: What's the difference between "acts of genocide" and "genocide"?
State Department Spokesperson: Well, I think the—as you know, there's a legal definition of this … clearly not all of the killings that have taken place in Rwanda are killings to which you might apply that label … But as to the distinctions between the words, we're trying to call what we have seen so far as best as we can; and based, again, on the evidence, we have every reason to believe that acts of genocide have occurred.
Reporter: How many acts of genocide does it take to make genocide?
State Department Spokesperson: Alan, that's just not a question that I'm in a position to answer.
This exchange is taken from Power, Bystanders to Genocide, Atlantic Monthly, September 2001.
"Any time you mentioned peacekeeping in Africa" said one U.S. official, " the crucifixes and garlic would come up on every door." Power, Bystanders to Genocide Atlantic Monthly, September 2001.
Ironically, Inyenzi was a term coined by the RPF (mainly Tutsi) forces to describe themselves: stealthy and impossible to eradicate. It was later co-opted by the Hutu extremists and used to incite the extermination of all Tutsi.
The Guilt of the Press and the Intelligentsia: André Sibomana pointed out that "Intellectuals bear an overwhelming share of responsibility. The ideologues of the genocide were not unemployed young men from [the slums of Kigali] but highly intelligent people who had studied at the best universities in Europe or the United States."
"The other thing you have to understand was that the message [from Radio RTLM and other media outlets] crept into our national consciousness very slowly. It did not happen all at once. We did not wake up one morning to hear it pouring out of the radio at full strength. It started with a sneering comment, the casual use of the term 'cockroach,' the almost humorous suggestion that the Tutsis should be airmailed back to Ethiopia. Stripping the humanity from an entire group takes time. It is an attitude that requires cultivation, a series of small steps, daily tending. I suppose it is like the famous example of the frog who will immediately leap out of a pot of boiling water if you toss him into it, but put it in cold water and turn up the heat gradually, and he will die in boiling water without being aware of what happened." Rusesabagina & Zoellner, An Ordinary Man, p. 64.
It's easy for those of us who live safe and secure lives to judge those who participated in the genocide of 1994. Many, perhaps even most of the genocidaires, deserve our moral condemnation. However, it is also true that you never know what you will do until you are tested. Those of us who live safe and secure in peaceful communities can only hope that if put to the test, we would respond in an ethical manner.
It all happened as if those who committed the genocide were submerged in a hatred which had been contained for a long time. … Where did it come from, this hatred of others? I can only explain it by an insurmountable hatred of one's self. Indeed some killers committed suicide after they had killed…. After several days of this horrific bloodbath, the killers went completely mad. Politics, ethnic divisions, the war, none of this even entered their minds. Sibomana, Hope for Rwanda, p. 69.
In April the Belgian UNAMIR contingent was ordered out of the country by Belgium's civilian leaders. The Belgian commander refused the order three times before he finally complied. He was responding to the extreme situation in Rwanda and to the craven nature of the order. However, military officers must always obey lawful orders from their civilian leaders and he should have left sooner. There is a saying in the U.S. military that you get only one chance to challenge an order that you think is wrong or ill-advised; only one, "But, sir …."
Should General Dallaire have ignored the orders from the civilian leaders at the U.N. and gone after the weapons caches or attacked the genocidaires? The answer is clearly no. Military officers are not elected or selected through a political process which is designed to express the will of the people. While the U.N.'s orders to Dallaire were probably ill-conceived and contributed to the deaths of many people, the problems caused by military officers making policy decisions is so great that the principle of civilian control is essential to democracy. An example is the successful NATO intervention in Kosovo spearheaded by the U.S. President Clinton pushed the Kosovo intervention through despite doubts from many in the U.S. military that it could be successfully accomplished.
Don Cheadle, adding his voice to the calls for decisive action to stop the genocide in Darfur, said: "I don't want to make "Hotel Darfur."
See Witness To Evil: Roméo Dallaire and Rwanda for many film and audio clips of General Dallaire and of Rwanda at the time.
For more on General Dallaire's leadership, see Leadership in the Canadian Armed Forces — Conceptual Foundations and LAW OF ARMED CONFLICT AT THE OPERATIONAL LEVEL RWANDA AND AN UNLAWFUL ORDER By Colonel B. W. MacLeod, a paper submitted to the Canadian Armed Forces College.
The hotel depicted in "Hotel Rwanda" is the "Hotel Mille Collines." It is still in operation today under new owners. "Mille Collines" was also the name of the hate radio station RTLM (Radio Television Libre Mille Collines). "Mille Collines" means "a thousand hills" in French. Rwanda is often referred to by its people as the land of the "Mille Collines."
Search Lesson Plans for Movies
* we respect your privacy. no spam here!
Follow us on social media!