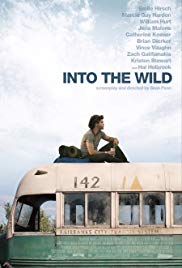 INTO THE WILD
SUBJECTS — Literature: Nonfiction; Literary Devices: theme; allusion; U.S.: 1945 – 1991;
SOCIAL-EMOTIONAL LEARNING — Taking Care of Yourself; Families in Crisis; Friendship;
MORAL-ETHICAL EMPHASIS — Responsibility.
AGE: 14+; MPAA Rating — R for language and some nudity (see the Possible Problems section for TWM's note about why we recommend this film despite its R rating);
148 Minutes, Drama; Released in 2007; Color. Available from Amazon.com.
Note: Responding to the emphasis of the Common Core Curriculum Standards on teaching students to read nonfiction ("informational texts"), This Guide will assist teachers who show the movie alone or in conjunction with reading John Krakauer's book of the same title.
When showing or discussing the movie, teachers should inform students that the book gives additional details about the events portrayed in the film and recounts interesting facts about the life of Chris McCandless that could not be included in the movie.