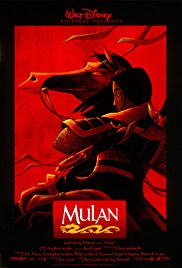 MULAN
SUBJECTS — World/China; Mythology;
SOCIAL-EMOTIONAL LEARNING — Breaking Out; Female Role Model;
MORAL-ETHICAL EMPHASIS — Responsibility; Caring.
AGE: 6 – 9; MPAA Rating — G;
Animated; 1998; 88 minutes; Color. Available from Amazon.com.
Mulan is the only child of a family in ancient China. She thinks for herself and speaks her mind; nothing like the quiet, polite and demur girls who can attract suitable husbands. She lives in a time when the Huns are invading China from the North. Mulan's father is old and infirm. When the Emperor calls upon each family to contribute a soldier to the army, Mulan's father is determined to answer the Emperor's call. To do anything else would bring dishonor on his name and his family. Mulan knows that if her father goes to war, he will not survive. She decides to go in his stead, knowing that if a woman is found disguising herself as a soldier, she will be executed. This film is loosely based on an ancient Chinese myth.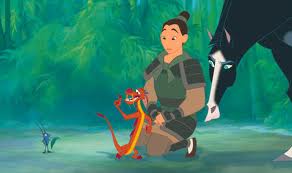 Chinese civilization began more than 4,000 years ago, at the beginning of human civilization. China has a larger population than any other country, comprising one and one quarter billion people, more than 1/5th of all human beings. China has the second largest land mass of any country in the world. Only Canada is larger.
The "Huns" of Asia were a cattle breeding nomadic people called the "Hsiung-nu." In the 5th century B.C.E., their repeated invasions caused the kingdoms of North China to begin erecting walls to keep them out. The walls were later connected into what became the Great Wall of China. It is not known whether the Hsuing-nu were the ancestors of the "Huns" who terrorized Europe in the 4th and 5th centuries A.D.
In the 3rd Century B.C.E. the Hsiung-nu formed a far-flung tribal confederation under a ruler known as the "shan-yü," roughly equivalent to the designation of the Chinese Emperor as the t'ien-tzu ("son of heaven"). The Hsiung-nu dominated much of Central Asia for more than 500 years. They were a constant threat to China's northern frontier. The Hsiung-nu were fierce mounted warriors and, at the height of their power, able to field up to 300,000 horseback archers. Their attacks on Northern China led to a fierce and aggressive policy against them by the Chinese who sent expeditions into Northern Asia, seeking to outflank Hsiung-nu and to negotiate alliances with their enemies. This policy led to the Chinese exploration and conquest of much of Central Asia.
The Great Wall of China stretches 4500 miles across what was once the northern border of China. The individual sections were connected by the Qin dynasty, 221-206 B.C.E. The wall was built primarily by the forced labor of peasants and captives. Armies were garrisoned to stand guard over the workers as well as to defend against invasion. Each successive Chinese dynasty added to and improved the wall.
The Ming dynasty (1368-1644) gave the Great Wall its present form. The brick and granite work was enlarged and sophisticated designs were added. Modern cannons were mounted on the watch towers in strategic locations.
The wall functioned as an early warning system as well as a first line of defense. Straw and cow dung were used for signal fires to warn of approaching enemies. To bring supplies to the top of the wall, ropes were slung over posts set in the Chinese side of the wall and baskets were hauled up hand over hand. The wall traverses large expanses of uninhabited or sparsely inhabited country.
Ancient Chinese ancestor worship is more properly described as a reverence for ancestors that was an act of filial piety. The Chinese viewed the family as a united and closely knit group of living and dead relatives. Rites of reverence were held in the home, at clan temples, and in graveyards. Tablets bearing the names of recent ancestors and especially notable forebears were maintained in the home and rites were observed before them. It was thought that the ancestors required solicitous care. Since the kin group was an indivisible unit with common goals and fortunes, rites and observances honoring the ancestors were a means of continuing to receive their aid and cooperation. Ancestor worship was strongly supported by the teachings of the sage Confucius of the 6th-5th centuries B.C.E.

1. See Discussion Questions for Use With any Film that is a Work of Fiction.
2. Why was it important for Mulan and others in the film not to shame their families?
3. Why did the ancestors care about what happened to Mulan?
4. Why was it a crime for a woman to enlist in the army?
5. At the beginning of the film, Mulan was reciting a litany of what a good daughter should be: "quiet, demure, graceful, polite, delicate, refined, poised and punctual". Are those goals that girls aspire to today? Should they?
6. What country has a larger territory than China?
SOCIAL-EMOTIONAL LEARNING
MORAL-ETHICAL EMPHASIS (CHARACTER COUNTS)
Discussion Questions Relating to Ethical Issues will facilitate the use of this film to teach ethical principles and critical viewing. Additional questions are set out below.
RESPONSIBILITY
(Do what you are supposed to do; Persevere: keep on trying!; Always do your best; Use self-control; Be self-disciplined; Think before you act — consider the consequences; Be accountable for your choices)
1. Mulan both obeyed and violated the Pillar of "Respect." Describe how she complied with this Pillar and how she did not. Tell us if you think she made the right choice.
CARING
(Be kind; Be compassionate and show you care; Express gratitude; Forgive others; Help people in need)
2. Should Mulan have permitted her father, as sick as he was, to join the army?
ASSIGNMENTS, PROJECTS & ACTIVITIES
These assignments are suitable for older advanced students.
Read the original Chinese myth of Mulan and compare it to the movie. Write an essay on how they are different and how they are alike.
Why would the Disney company change the story of Mulan from the original Chinese myth? Write an essay about what this can tell you about the American audience for whom the film was made?
See also Assignments, Projects, and Activities for Use With Any Film that is a Work of Fiction.