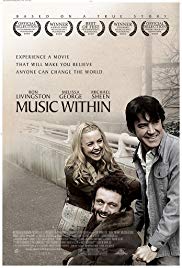 MUSIC WITHIN
SUBJECTS — U.S. 1945 – 1991; Health (disabilities; effects of early-life trauma);
SOCIAL-EMOTIONAL LEARNING — Disabilities; Work/Career;
MORAL-ETHICAL EMPHASIS — Respect; Citizenship.
AGE; 14+; MPAA Rating: R for language and some marijuana use by Vietnam veterans;
Drama; 94 minutes; 2007; Color. Available from Amazon.com.
Historical Note:
Today, most people view the disabled as full-fledged citizens who have the right to participate in mainstream society as much as they can. There is a law, the Americans With Disabilities Act of 1990 ("the ADA"), which requires that facilities open to the public be built or modified to provide access for disabled people and that they be given reasonable accommodations so that they can hold down a job. Before that time there were no such obligations. The movement to grant the disabled access to buildings otherwise open to the public and to integrate them into the work-life of the community was one of the five movements that made substantial advances in human rights in the United States during the 20th century. The other four were: (1) suffrage and civil rights for women; (2) civil rights for blacks and other minorities; (3) procedural rights for persons accused of crimes; and (4) ending discrimination against homosexuals. All of these movements are works in progress. The crown jewel of the effort to extend equal rights to homosexuals, gay marriage, was won only in 2015 with the decision of the Supreme Court in the case of Obergefell v. Hodges.
One of the Best! This movie is on TWM's short list of the best movies to supplement Health Classes, High School Level.