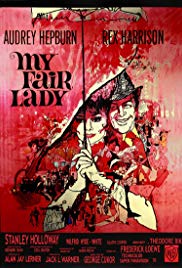 MY FAIR LADY
SUBJECTS — Drama/Musicals; World/England;
SOCIAL-EMOTIONAL LEARNING — Breaking Out; Romantic Relationships
MORAL-ETHICAL EMPHASIS — Caring.
AGE: 6+; MPAA Rating — G;
Musical; 1964; 170 minutes; Color. Available from Amazon.com.
Professor Henry Higgins, an expert in phonetics and the dialects of England, brags that within six months he can take a street girl with a strong Cockney accent and pass her off as a duchess. Eliza Doolittle, the flower girl whose accent spawned this boast, wants to "speak like a lady" and Higgins' takes on the challenge to make Eliza acceptable to upper-class society in six months. The musical is based on the play Pygmalion by George Bernard Shaw.
Selected Awards: 1964 Academy Awards: Best Picture, Best Actor (Harrison), Best Director (Cukor), Best Adapted Score, Best Art Direction/Set Decoration (Color), Best Color Cinematography, Best Costume Design (Color), Best Sound; 1965 British Academy Awards: Best Film; 1964 Directors Guild of America: Best Director (Cukor); 1965 Golden Globe Awards: Best Film – Musical/Comedy, Best Actor – Musical/Comedy (Harrison), Best Director (Cukor); 1964 National Board of Review Awards: Ten Best Films of the Year; 1964 New York Film Critics Awards: Best Film, Best Actor (Harrison), 1964 Academy Award Nominations: Best Supporting Actor (Holloway), Best Supporting Actress (Cooper), Best Adapted Screenplay, Best Film Editing. This film is ranked #91 on the American Film Institute's List of the 100 Greatest American Movies of All Time (2006). It is ranked #8 on the American Film Institute's List of the 25 Great Movie Musicals.
Featured Actors: Audrey Hepburn, Rex Harrison, Stanley Holloway, Wilfrid Hyde-White, Theodore Bikel, Mona Washbourne, Jeremy Brett, Robert Coote, Gladys Cooper.
Director: George Cukor.
Musical theater is one of the great genres of Western Art, particularly in the U.S. My Fair Lady with its wonderful songs and captivating story is an excellent choice for introducing musicals to students of any age. The film also illuminates how manners of speech determine class and standing as well as economic opportunity.
Students will be provided with an excellent example of musical theater transposed to film. In elementary grades, just showing the movie may be sufficient. In secondary school, the film provides opportunities for oral and writing projects that can sharpen research and writing skills.
Enjoy the film with your children and express the idea that judgments made on intellect and social status are made in this country as well as in England, now as well as decades in the past. You may want to tell your child the Greek myth, Pygmalion.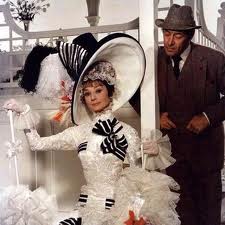 See Learning Guide to "Pygmalion".
In England, a person's accent has traditionally been a way by which social status is determined. Those who speak with certain accents have not been permitted to have good jobs and cannot gain social acceptance. Henry Higgins accurately describes the situation in the early 20th century. Accent and diction still play a major role in determining social status.
After the film has been watched, engage the class in a discussion about the movie.
1. Speaking patterns today, just as in the days represented in My Fair Lady, tell much about an individual. What accents or speaking styles do you hear today that might be subject to the kinds of lessons Elisa experienced in the film?
Suggested Response:
Answers will vary. Today we hear accents specifying national origin, a region within the U.S., culture such as hip-hop, vernacular associated with age and lifestyle as well as generally accepted malapropisms. You may want to point out presidential examples: Lyndon Johnson would say, I want to get this job done "rat" (right) now before the "all" (meaning "oil") wells run dry; John Kennedy would say that "Cuber" (meaning "Cuba") had become a problem; George Bush was concerned about "nukler" (meaning "nuclear") weapons in the hands of enemies.
2. What in the film justifies the reasoning behind the requirement that students look up, learn to pronounce and use new words throughout their schooling?
Suggested Response:
Answers will vary. Students should note that Eliza was trapped in the lower classes in terms of employment because of the way she spoke. She was judged and disdained. None of this would have occurred had she been "well spoken." Success in the job market requires quality speaking skills.
3. What kinds of problems associated with membership in the lower classes are indicated through the character of Eliza's father?
Suggested Response:
Answers will vary: Students should refer to the fact that he tries to wrangle money out of Mr. Higgins and that his life changes unhappily after he acquires it.
4. Does a person's accent really tell you anything about their character or their capacities?
Suggested Response:
A person's accent tells you nothing about them except perhaps where they grew up.
5. In what way do people in the U.S. classify others by the way they speak?
6. How have radio and television influenced the way in which we speak?
7. What did Eliza's father mean when he spoke of the "undeserving poor" and "middle-class morality?"
SOCIAL-EMOTIONAL LEARNING
ROMANTIC RELATIONSHIPS
1. What do you think about the way in which Henry Higgins treated Eliza?
2. At the end of the movie, should Eliza have gone back to Higgins and, if so, under what conditions?
3. What was the basis of the attraction between Eliza and Henry Higgins? Should Eliza have gone off with Freddie? After all, he adored her.
MORAL-ETHICAL EMPHASIS (CHARACTER COUNTS)
Discussion Questions Relating to Ethical Issues will facilitate the use of this film to teach ethical principles and critical viewing. Additional questions are set out below.
CARING
(Be kind; Be compassionate and show you care; Express gratitude; Forgive others; Help people in need)
[See discussion questions in the "Romantic Relationships" section above.]
ASSIGNMENTS, PROJECTS & ACTIVITIES
Any of the discussion questions can serve as a writing prompt. Additional assignments include:
1. Some viewers assert that Eliza should have gone off with Freddie rather than returning to Mr. Higgins. Write a new ending to the film that would be more satisfying to an audience with a more modern attitude toward relationships between men and women.
Note to teachers: George Bernard Shaw, the author of the play, Pygmalion, had much the same idea and wrote a new ending to his play. See Sequel: What Happened Afterwards. It might be fun and educational for students who are given this assignment, to compare their work to that of Mr. Shaw.
2. Research the golden age of Hollywood musicals and create a power point presentation for the class. Show snippets of the most famous musicals set to film and play some of the music. Conclude your presentation with the most recent musicals.
3. Determine the nature of the accents you hear in your family, neighborhood, and school. Compile a list of what you hear and from what country or part of the U.S. from which these accents arise. Write an expository essay in which you reveal your results. Try to describe the sounds you have heard in the many voices you are writing about. Determine if there is any class or economic factors apparent in the various accents.
4. Define the term "broadcast English" and discuss how it has affected speech patterns in the U.S.
5. Compare the story of My Fair Lady to the Greek myth of "Pygmalion."