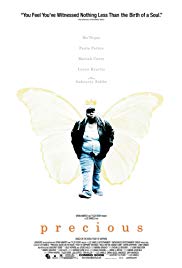 PRECIOUS
SUBJECTS — Health; ELA (for cross-curricular assignments); Psychology;
SOCIAL-EMOTIONAL LEARNING — Child Abuse, Self-esteem, GBLTQ; Parenting; Taking Care of Yourself;
MORAL-ETHICAL EMPHASIS — Responsibility, Caring.
AGE: 15+; MPAA Rated R (for child abuse including sexual assault, and pervasive language);
2009; 110 Minutes; Color. Available from Amazon.com.
Note to Teachers: This film can be deeply disturbing. Be sure to watch it and the deleted scene of the incest survivor's meeting before showing either to students. Especially for this movie, it is important to get administrative and parental permissions.
TWM suggests that Health teachers who use this film coordinate with ELA teachers for the writing assignments set out at the end of this Learning Guide.