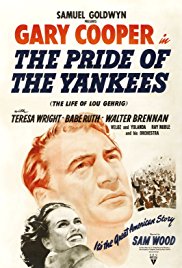 PRIDE OF THE YANKEES
SUBJECTS — Biography/Gehrig; Sports/Baseball;
SOCIAL-EMOTIONAL LEARNING — Male Role Model;
MORAL-ETHICAL EMPHASIS — Responsibility.
AGE: 8+; No MPAA Rating (but suitable for all ages);
Drama; 1942; 127 minutes; B & W. Available from Amazon.com.
MOVIE WORKSHEETS & STUDENT HANDOUTS
This film is a biography of Lou Gehrig, the legendary New York Yankee baseball player.
Selected Awards:
1942 Academy Awards Nominations: Best Picture, Best Actor (Cooper), Best Actress (Wright) Best Black & White Cinematography, Best Film Editing, Best Interior Decoration, Best Original Score, Best Sound, Best Story and Best Screenplay.
Featured Actors:
Gary Cooper, Teresa Wright, Babe Ruth, Walter Brennan, Dan Duryea.
Director:
Sam Wood.
"Pride of the Yankees" shows the life of a man whose fame didn't go to his head. Every child who loves baseball should see this movie and learn what Gehrig said after he had been diagnosed with a painful and fatal disease. (See the Helpful Background Section below.)
Tell your child a little about the career of Lou Gehrig. See the Helpful Background section. Then ask and help your child to answer the Quick Discussion Question.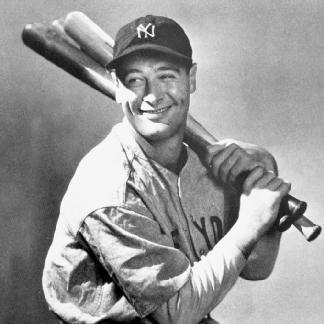 Lou Gehrig, nicknamed "the Iron Horse," played in 2,130 consecutive games from 1925 to 1939. This record stood until it was broken by Cal Ripken, Jr. in 1995. Gehrig led the American League in RBIs in 1927, 1928, 1930, 1931 and 1934. He was voted the league's most valuable player in 1927 and 1936. His lifetime batting average was .340 with 493 home runs and 23 grand slams. He retired in 1939 when he was stricken with amyotrophic lateral sclerosis, a neuromuscular disease that leads to total paralysis. The illness came to be known as "Lou Gehrig's Disease." He died in 1941.
From all reports, Lou Gehrig was a devoted husband and a caring and giving human being. He lived an exemplary life. At one point after he was ill, Gehrig was honored at Yankee Stadium. His statement to the fans at that time was: "I may have been given a bad break, but I have an awful lot to live for. With all this, I consider myself the luckiest man on the face of the earth."
SOCIAL-EMOTIONAL LEARNING
MALE ROLE MODEL
See Quick Discussion Question.
MORAL-ETHICAL EMPHASIS (CHARACTER COUNTS)
Discussion Questions Relating to Ethical Issues will facilitate the use of this film to teach ethical principles and critical viewing. Additional questions are set out below.
RESPONSIBILITY
(Do what you are supposed to do; Persevere: keep on trying!; Always do your best; Use self-control; Be self-disciplined; Think before you act — consider the consequences; Be accountable for your choices)
1. Would Gehrig's honorable behavior be regarded as old fashioned in today's greed driven professional sports?
ASSIGNMENTS, PROJECTS & ACTIVITIES
Parents can read to their children excerpts from "The Iron Horse" in They Rose Above It All by Robert Consodine, reprinted in The Book of Virtues by Robert Bennett, pages 496 – 501. Books recommended for 10 – 14 year-old readers include: The Kid from Tomkinsville by John R. Tunis; The Fox Steals Home by Matt Christopher, illustrated by Larry Johnson. Adult books that advanced readers will enjoy include: Rookie by Dwight Gooden, with Richard Woodly; The Artful Dodger by Tommy LaSorda.
This Learning Guide was last updated on December 17, 2009.