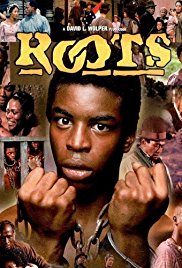 ROOTS VOLUME V
SUBJECTS — U.S./1812 – 1860 & Diversity;
SOCIAL-EMOTIONAL LEARNING — Father/Son;
MORAL-ETHICAL EMPHASIS — Respect.
AGE: 12+; Not Rated;
Drama; 1977; 90 minutes; Color. Available from Amazon.com.
MOVIE WORKSHEETS & STUDENT HANDOUTS
Roots is a video presentation of Alex Haley's Pulitzer Prize-winning book, Roots: The Saga of an American Family. Volume V shows the strain that slavery puts on the natural relations of parents and children and the rise of "Chicken George."
Selected Awards:
The "Roots" series won a Golden Globe Award as the Best Television Series of 1978, nine Emmy Awards, and many other honors.
Featured Actors:
Ben Vereen, Lloyd Bridges, Georg Stanford-Brown, McDonald Carey, Olivia Cole, Chuck Connors, Brad Davis, Sandy Duncan, Hilly Hicks, Carolyn Jones, Doug McClure, Ian McShane, Lynn Moody, and Leslie Uggams.
Director:
Gilbert Moses.
The "Roots" series describes important aspects of the black experience in the U.S. and, for all Americans, helps in facing the legacies of slavery and segregation.
MINOR. There is some violence but it is appropriate to the film's message.
Ask and help your child to answer the Quick Discussion Question and the Discussion Question on Morality and Ethics.
MORAL-ETHICAL EMPHASIS (CHARACTER COUNTS)
Discussion Questions Relating to Ethical Issues will facilitate the use of this film to teach ethical principles and critical viewing. Additional questions are set out below.
RESPECT
(Treat others with respect; follow the Golden Rule; Be tolerant of differences; Use good manners, not bad language; Be considerate of the feelings of others; Don't threaten, hit or hurt anyone; Deal peacefully with anger, insults, and disagreements)
1. Is it possible for a slave owner to be respectful of a slave's humanity? Why?
Suggested Response:
No. The very nature of the slave/master relationship is for the owner to take advantage of the slave. The slave serves the owner without recompense. A good employer/employee relationship is much different. The employer pays for the work of the employee at a reasonable rate. An employer can also train an employee so that he can undertake new responsibilities, have a more satisfying job and make more money.
ASSIGNMENTS, PROJECTS & ACTIVITIES
Older children who are good readers will enjoy the book Roots: The Saga of an American Family by Alex Haley. Books about the black experience during this period include: Running for Our Lives, by Glennette Tilley Turner.
This Learning guide was last updated on July 21, 2011.