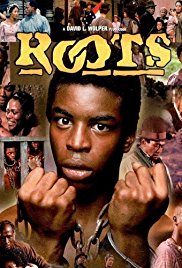 ROOTS VOLUME VI
SUBJECTS — U.S./1865 – 1913 & Diversity;
SOCIAL-EMOTIONAL LEARNING — None.
MORAL-ETHICAL EMPHASIS — Respect.
AGE: 12+; Not Rated;
Drama; 1977; 90 minutes; Color. Available from Amazon.com.
MOVIE WORKSHEETS & STUDENT HANDOUTS
Roots is a video presentation of Alex Haley's Pulitzer Prize-winning book, Roots: The Saga of an American Family. Volume VI covers the period from Emancipation through Reconstruction.
Selected Awards:
The "Roots" series won a Golden Globe Award as the Best Television Series of 1978, nine Emmy Awards, and many other honors.
Featured Actors:
Ben Vereen, Lloyd Bridges, George Stanford Brown, Olivia Cole, Brad Davis, Burl Ives, and Lynne Moody.
Director:
Marvin J. Chomsky.
The "Roots" series describes important aspects of the black experience in the U.S. and, for all Americans, helps in facing the legacies of slavery and segregation.
MINOR. There is some violence but it is appropriate to the film's message. The ending of this film is improbable. It is unlikely that Chicken George and his family would be permitted to take mules and farm implements and leave whites tied up to trees without being pursued and prosecuted in local courts.
Before watching the movie, review the Helpful Background section and describe its contents to your child. Immediately after the movie ask and help your child to answer the Quick Discussion Question.
For information on lynching, see Learning Guide to "To Kill A Mockingbird".
Reconstruction was the process of rebuilding the South that followed the Civil War. It extended from 1865 to 1877. The federal government divided the South into military districts and stationed soldiers there as an army of occupation. The Freedman's Bureau tried to help slaves for a time. During this period, the federal government tried to remake the South. White resistance took the form of passive resistance, terror from masked riders, and economic tactics designed to place blacks in a position similar to slavery. Reconstruction ended with the collapse of the last Southern state governments under Republican control in 1877. Thereafter, in a period called "the Redemption" by Southern whites, the remaining reforms of the reconstruction era, including black suffrage and universal public education, were scaled back.
MORAL-ETHICAL EMPHASIS (CHARACTER COUNTS)
Discussion Questions Relating to Ethical Issues will facilitate the use of this film to teach ethical principles and critical viewing. Additional questions are set out below.
RESPECT
(Treat others with respect; follow the Golden Rule; Be tolerant of differences; Use good manners, not bad language; Be considerate of the feelings of others; Don't threaten, hit or hurt anyone; Deal peacefully with anger, insults, and disagreements)
1. Why was the institution of segregation disrespectful of black persons?
Suggested Response:
It denied their full humanity and equality as human beings.
ASSIGNMENTS, PROJECTS & ACTIVITIES
Older children who are good readers will enjoy the book Roots: The Saga of an American Family by Alex Haley. See also Reconstruction: America After the Civil War by Zack Metgar. Rebels Against Slavery, by Patricia and Frederick McKissack, is suitable for ages 11 and up.
This Learning Guide was last updated on July 21, 2011.