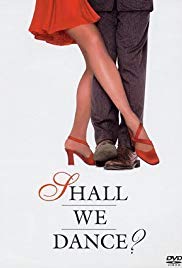 SHALL WE DANCE
SUBJECTS — Dance; World/Japan;
SOCIAL-EMOTIONAL LEARNING — Breaking Out; Marriage;
MORAL-ETHICAL EMPHASIS — Responsibility.
AGE: 12+; MPAA Rating — PG (for mild language);
Drama; 118 minutes; Color; 1996;. Available from Amazon.com.
A Japanese salaryman on the train coming home after a long day's work sees a beautiful woman looking pensively from the window of a ballroom dance studio. Intrigued, he begins to take lessons at the studio and finds something he did not expect.
The 2004 U.S. production starring Richard Gere, Jennifer Lopez, and Susan Sarandon is a charming and entertaining movie. Except for the end it pretty much tracks the original Japanese film. However, the U.S. version suffers from the fact that ballroom dancing is not frowned upon in the U.S. The disapproval of the general society gives a sense of risk and mystery to the Japanese film.
This film will show something about life in modern Japan and how people become entranced with dancing, in this case, ballroom dancing.
"Shall We Dance?" is inevitably compared with Strictly Ballroom. Both films are delightful and worthwhile. "Shall We Dance?" deals with the angst of maturity while "Strictly Ballroom" explores the challenges of youth. Both movies show dance as a transforming force.
Japanese salarymen, i.e., office workers, usually work late and often socialize with their co-workers. Traditionally, married women stay at home. Before this film, social dancing was seen in Japan as somewhat risqué, even for married couples. This film was wildly popular in Japan. It is reported that the popularity of "Shall We Dance?" has changed somewhat the way the Japanese view social dancing.
QUICK DISCUSSION QUESTION:
At the end of the film should Shohei have stopped dancing? What would you have him do at the end of the movie?
Suggested Response:
He should have kept dancing with his wife as his partner. This way he would have integrated his dream with his life.
1. See Discussion Questions for Use With any Film that is a Work of Fiction.
2. If Shohei started dancing to be close to Mai, why did he keep on dancing after Mai spurned him?
3. What did Shohei find in dancing?
4. What did Mai eventually see in Shohei?
5. What is the significance of the way Mr. Aoki walks when he is at work?
6. What is the difference between the attitudes toward ballroom dancing in the U.S. and in Japan? Why won't Mai dance at the dance hall with the young man who wanted to be her partner?
SOCIAL-EMOTIONAL LEARNING
BREAKING OUT
1. One reviewer said: "[Shohei's] struggle against the slide of life has an impact for all who've contemplated their own existence; his solution might not suit all, but at least Shohei makes an effort. The big question is whether you should be out there exploring a new future rather than in here absorbing yet another movie!"(Damian Cannon. Movie Reviews UK 1998) What is "the slide of life" to which Mr. Cannon refers? Do you see "the slide of life" taking hold in your parents and older relatives? Describe it. What have they done about it? What will you do about it when you begin to feel the "slide?"
Suggested Response:
The "slide of life" is when a person feels his potentials shutting down and he realizes that the life he has chosen is limited in some way. We all feel this because, for all of us, living life involves choosing some things and not others. For example, we will choose one profession, but not another. We will choose to have children or not to have them. We will choose to get married or not to get married. People in middle age can feel this most acutely.
MARRIAGE
2. What happens to the relationship between Shohei and his wife through the film?
3. Does Sohei's infatuation with Mai mean that he doesn't love his wife and that he should get a divorce?
MORAL-ETHICAL EMPHASIS (CHARACTER COUNTS)
Discussion Questions Relating to Ethical Issues will facilitate the use of this film to teach ethical principles and critical viewing. Additional questions are set out below.
RESPONSIBILITY
(Do what you are supposed to do; Persevere: keep on trying!; Always do your best; Use self-control; Be self-disciplined; Think before you act — consider the consequences; Be accountable for your choices)
1. How do the various aspects of this Pillar apply to the actions of Shohei portrayed in this film?
ASSIGNMENTS, PROJECTS & ACTIVITIES
BUILDING VOCABULARY:
salaryman.