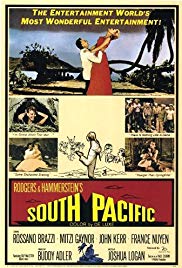 SOUTH PACIFIC
SUBJECTS — Drama/Musicals; U.S./1941 – 1945;
SOCIAL-EMOTIONAL LEARNING — Romantic Relationships;
MORAL-ETHICAL EMPHASIS — Respect; Citizenship.
AGE: 10+; No MPAA Rating;
Musical; 1958; 167 minutes; Color. Available from Amazon.com.
Set on an American Navy base on a tropical island during the Second World War, this film describes the experiences of the sailors and the nurses, several romances and one reconnaissance mission. The story is based on the Pulitzer Prize-winning book Tales of the South Pacific by James Michener.
"South Pacific" features some of the best music written for the stage, including "Some Enchanted Evening," "Younger Than Springtime," "You've Got to Be Carefully Taught," "There is Nothin' Like a Dame," "My Girl Back Home," "Dites-Moi," "Bali Ha'i," "Happy Talk," "A Cockeyed Optimist," "Bloody Mary," "Honey Bun," "I'm Gonna Wash That Man Right Out of My Hair," and "I'm in Love With a Wonderful Guy."
The film also shows some of the effects and origins of racial prejudice.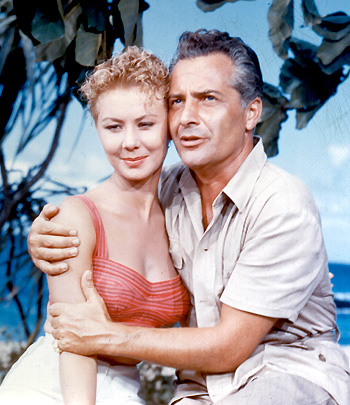 Seabees are Navy Engineers. They build roads, landing strips, buildings etc. for the armed forces.
The French colonized many South Pacific Islands. During World War II, many of these were conquered by the Japanese or taken over by the United States.
Like WWI, the Second World War brought Americans into contact with people from many different cultures. This film focuses on what happened to several people in the South Pacific during WWII.
SOCIAL-EMOTIONAL LEARNING
MORAL-ETHICAL EMPHASIS (CHARACTER COUNTS)
Discussion Questions Relating to Ethical Issues will facilitate the use of this film to teach ethical principles and critical viewing. Additional questions are set out below.
TRUSTWORTHINESS
(Be honest; Don't deceive, cheat or steal; Be reliable — do what you say you'll do; Have the courage to do the right thing; Build a good reputation; Be loyal — stand by your family, friends, and country)
1. Was it right for Nellie Forbush to provide information on Emile DeBec for the U.S. Navy?
2. Debec was not a soldier, nor was he a U.S. citizen. How did his actions in undertaking a dangerous mission apply this Pillar of Character?
RESPECT
(Treat others with respect; follow the Golden Rule; Be tolerant of differences; Use good manners, not bad language; Be considerate of the feelings of others; Don't threaten, hit or hurt anyone; Deal peacefully with anger, insults, and disagreements)
3. What did you learn from the song "You've Got to Be Carefully Taught" about the origins of prejudice?
ASSIGNMENTS, PROJECTS & ACTIVITIES