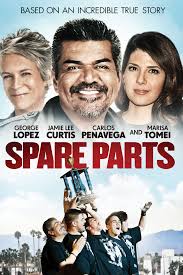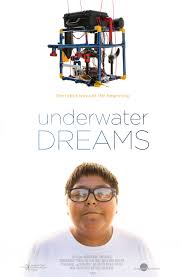 SPARE PARTS & UNDERWATER DREAMS
SUBJECTS — Science-Technology; U.S. 1991 – Current, Hispanic & Arizona;
SOCIAL-EMOTIONAL LEARNING — Education; Breaking Out;
MORAL-ETHICAL EMPHASIS — Responsibility.
Spare Parts — Age: 13+; MPAA Rating — PG-13 for some language and violence; Drama; 2015, 115 minutes; Color. Available from Amazon.com.
Underwater Dreams — Age: 12+; Not rated; Documentary, 2014, 86 minutes; Color. Available from the movie's official website.
Note to Teachers: The U.S. is currently engaged in a wrenching debate about what to do with eleven million illegal immigrants living within its borders. These movies put a human face on the most vulnerable of the immigrant populations, "the Dreamers" — children born in another country and brought to the U.S. illegally by their parents. While there is some truth to the claim that the movie provides arguments for one side in the immigration debate, the universal human truths shown in Spare Parts and Underwater Dreams are important for a full understanding of the problem of undocumented people living in the U.S. This is true no matter what position a person ends up taking on the issue. Other films that perform the same function with immigration generally include the classic, El Norte, and the more recent, A Better Life.
MOVIE WORKSHEETS & STUDENT HANDOUTS
Born in Mexico, raised in Phoenix in impoverished homes, under constant threat of deportation, four undocumented students from Carl Hayden High School entered the 2004 Marine Advanced Technology Education Robotics Competition. Having little money for materials, their robot was an eclectic mix of PVC pipe and off-the-shelf motors, including the last minute addition of tampons to absorb water leaking into the circuitry. They entered the college division because they figured it would be less humiliating to come in last when competing against colleges than it would be to come in last against other high schools.
To everyone's surprise, the students from Carl Hayden won, beating out MIT and all the other colleges that entered the competition. These movies tell their story. Spare Parts is a fictional, "based on real events," version that was adapted from the Wired Magazine Article, "La Vida Robot" by Joshua Davis. (Mr. Davis has expanded the article into a charming book, also entitled Spare Parts.) Underwater Dreams is a documentary that also describes what happened to the Carl Hayden robotics club and its students in the decade after the competition. The documentary relates the story to the issue of what to do with illegal immigrants who were brought to the U.S. by their parents while the kids were still children, the so-called "Dreamers."
Spare Parts
Selected Awards: None.
Featured Actors: George Lopez, Marisa Tomei, Jamie Lee Curtis, Esai Morales, Carlos PenaVega, David Del Rio, Jose Julian, J.R. Villarreal, Alexa PenaVega
Director: Sean McNamara.
Underwater Dreams
Selected Awards: None.
Featured Actors: Michael Peña, Narrator
Director: Mary Mazzio.
These films, like Stand and Deliver, show disadvantaged Hispanic kids from poor neighborhoods, sparked by inspiring teachers, performing amazing feats beyond all expectations. They are inspirational for all students. The movies show that with hard work, any barrier, including the difficulties imposed by an impoverished background can be overcome. Spare Parts can be used as an example of historical fiction. Underwater Dreams can be used as an example of a documentary.
The films also raise the issue of the Dreamers, kids illegally smuggled to the U.S. by their parents and who grow up as Americans. Before President Barak Obama's policy of Deferred Action for Childhood Arrivals, Dreamers faced deportation and may do so again if Congress does not act or if another President rescinds the policy.
Finally, the movies, especially Spare Parts, are an excellent way to motivate students to read all or selected portions of Joshua Davis' book Spare Parts: Four Undocumented Teenagers, One Ugly Robot, and the Battle for the American Dream.