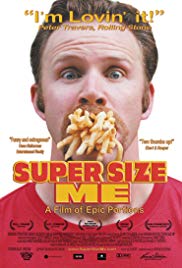 SUPER SIZE ME
SUBJECTS — U.S./1991 – present; Health; Medicine;
SOCIAL-EMOTIONAL LEARNING — Taking Care of Yourself;
MORAL-ETHICAL EMPHASIS — Responsibility.
Educationally Enhanced Version:
Age: 11+; MPAA Rating — PG for thematic elements, a disturbing medical procedure, and some language; Documentary; 2005; 100 minutes; Color;
Available from Amazon.com.
One of the Best! This movie is on TWM's list of the ten best movies to supplement classes in Health, High School Level.