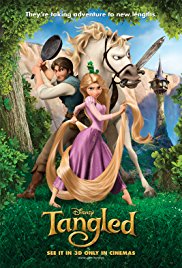 TANGLED
SOCIAL-EMOTIONAL LEARNING: Coming of Age; Female Role Model; Friendship; Mother/Daughter; Rebellion; Running Away.
MORAL-ETHICAL EMPHASIS: Trustworthiness; Respect; Responsibility; Caring.
AT A GLANCE: Age: 6 – 8; MPAA Rating — PG; Animated; 2010;100 minutes; Color; Available from Amazon.com.
*Note: The Development of This Guide is Still in Progress.
Tangled reimagines the story of Rapunzel, adding more depth and nuance, and turning the traditional tale into an entertaining, modern day, girl-power-ish movie.
This funny, sweet movie features a strong female lead. It shows the power of perseverance and kindness. Its songs are catchy and the animation is great. Rapunzel encourages people to follow their dreams, and when or if they don't work out, to find a new dream.
The old man cherub might be a bit intoxicated. The male lead, Flynn, is stabbed (but survives for a happily-ever-after). The witch ("Mother Gothel") can be a bit menacing, and she eventually falls out of the tower window, but turns to dust before she hits the ground. Rapunzel runs away from home, without knowing that she's running from the place she's being held hostage.
heal, century, kingdom, beloved, miracle, hoarded, gleam, lantern, exhausting, confident, annual, fragile, sapling, gullible, naïve, rebellion, humanity, chameleon, ridiculous, cryptic, mumble.
TALKING FOR VERBAL, SOCIAL AND EMOTIONAL DEVELOPMENT
Talking For Verbal, Social And Emotional Development Here.
CONVERSATION STARTERS
Who was your favorite character? What did you like about him or her?
→ Just talking with your child fosters verbal, social and emotional learning. Talk about a movie at any time: right after it is over, in the car on the way to school, during quiet time, or before bed.
→ Exercise memory skills by asking about the story, the characters, and the plot. Keep it light and fun.
Rapunzel was very good at painting. What's something you're good at?
→ Always encourage your child to form opinions and to share them.
→ Open-ended questions will help get a discussion going.
Would you like to have a pet like Pascal (the chameleon) or Maximus (the horse)?
→ Young children love Story Time.
DISCUSSIONS BASED ON THEMES IN THE MOVIE
Select questions appropriate for your child.
1. Was Rapunzel right to leave her tower? Talking About It — This is a tricky question. Rapunzel tricked her mom in order to run away from the tower and look at the lights. Running away is usually a bad idea. You can get scared, lost, or hurt. (See Finding Nemo.) Rapunzel felt a lot of these things; she was nervous and felt very guilty, but also felt that this was the right choice since she was never granted any freedom at all her entire life. Rapunzel had been kidnapped by Mother Gothel and was being held captive, even if she didn't know it. By making Rapunzel feel stupid and worthless, Mother Gothel makes sure that Rapunzel will always obey. This is a very cruel thing to do. Rapunzel, like all people, deserved respect and her freedom. (Rapunzel was also about to turn 18, which would make her an adult.)
2. When Rapunzel goes to The Snuggly Duckling, she encourages all the "ruffians" to share their dreams, the dreams they feel way down deep inside. What does she mean? What happens? Talking About It — Rapunzel wanted them to share their dreams, what they wanted to be or do, or where they wanted to go. She wanted them to share the special thing that they hold in their heart. At first, everyone thinks she must be crazy, but once someone starts talking about their dream, nearly everyone joins in!
3. Was Flynn a bad guy? Talking About It — Flynn was a thief; he took the tiara (which turned out to belong to Rapunzel) and was wanted for stealing. But he also helped Rapunzel on her quest to see the lights, and also sacrificed himself so that she could be free. He might have been "bad" at the beginning, but he learned that it was even more rewarding to be good and was able to change and lead a happy life as a respectful, kind, and sincere person.
→ Don't feel obligated to cover everything in this Guide. One or two questions are all that some children will tolerate. However, if your child watches the movie more than once, on each occasion start a new conversation or pick a new activity. This will enhance verbal development and increase the number of lessons your child takes from the film.
Stories are essential tools for verbal development, social-emotional learning, and character education. Intentional parents can use family movies as a basis for storytelling.
Repeat the story of the movie at bedtime, on a rainy day, or at any quiet time. Let your child correct you if you make a mistake and, better yet, encourage your child to tell you the story. Both of you can invent new adventures for the characters in the movie. The incidents in your stories should explore the themes of the movie.
Here is a bedtime story about that you can read to your child that expands upon some of the themes of the movie.
Rosa loved music of all kinds. Classical, pop, country, jazz; you name it, she loved it. Her parents gave her their old record player when she was just a baby, and by the time Rosa was 6, she had a record collection that was taller than she was. When the vinyl records started getting scratched up, her parents dug out their old boom box. The radio didn't work, but the tape deck did, and soon Rosa had collected enough tapes to wrap all the way around the rug in her bedroom. When Rosa turned 10, the tapes started to play funny and began to break, so her parents gave her a cd player, and her music collection continued to grow. All day and all night, you could find Rosa singing, humming, or whistling to songs. Teachers in school constantly had to remind her to focus on her class notes and not her music notes. More than anything, Rosa wanted to play in a band at school or join a choir, but her school had lost its art funding and couldn't keep the music program around. Every night, Rosa dreamed about playing an instrument and singing, imagining that she'd be a world famous musician with millions of fans. Rosa's friends supported her, especially her best friend, Wendy, who introduced her to new songs and artists and went to as many free local "Music in the Park" concerts with Rosa and her parents as she could.
When Rosa was 12, her mother got a new job in a different state and Rosa had to leave her friends, and her musical history behind. The first day at her new middle school was eye-opening; the school was enormous, and looked to be brand new. It even smelled new, with fresh paint, carpet, and desks. The principal was giving Rosa and her parents a tour of the school when a sign caught Rosa's eye: Music Wing. The teacher noticed Rosa's excitement. "Oh, yes, our music department is quite good. We have orchestra, concert band, jazz band, choir, show choir, and jazz choir. Do you like music?" Rosa rattled off all of her favorite musicians, songs, and genres, and as she took a breath, the principal interrupted, "Wow! You must get involved with the music program here. And today's your lucky day, auditions for all classes are this afternoon in Room 247. If that's okay with your parents, of course." Rosa's parents could barely get out the word "yes" before Rosa was jumping up and down.
That afternoon, Rosa arrived at Room 247. There were at least 50 other students ahead of her. She could hear them running through vocal exercises, tuning their instruments, practicing their audition pieces. She hadn't had any time to prepare at all; the day had been a whirlwind of new faces, new teachers, and new subjects. Rosa was nervous, but she figured, she'd been singing since the time she could babble, so how bad could she be? One by one, the line began to disappear. Students entered Room 247, closed the door, and about three minutes later, emerged looking thrilled or disappointed. It was Rosa's turn. She took a deep breath, smiled, and entered the room.
Three teachers sat at a table in the middle of the room, and motioned for Rosa to stand in front of them, on the X taped to the floor. "Name, please," a gruff looking male teacher said.
"R-r-r," Rosa stammered, "Rosa Hernandez." She suddenly felt very, very worried.
"And you're auditioning for?" the teacher continued, not looking up from his paper.
Oh no, thought Rosa, what am I auditioning for? "Um, anything?" Rosa squeaked out.
He raised an eyebrow and waited. Rosa sang, an oldies classic she had heard in the car that very morning. She reached the end, looked at the teachers, and waited.
"Well," said the gruff teacher, "that was interesting." The other teachers nodded.
"Interesting in a good way?" Rosa asked.
"Not exactly. Thanks for trying, Rosie." He looked back at his papers.
"Rosa," she said, "My name is Rosa, not Rosie. And I've been listening to music my whole life. Really. And I know so much about music, about all kinds of music. Maybe I'm not the best singer, but I can learn, I can try."
A female teacher interrupted her. "I understand. And you definitely seem… passionate."
The male teacher hissed, "but she's not good, Mona."
Rosa's heart sunk. Her whole life she wanted to participate in a band, a choir, anything. And now here was her chance, and she wasn't even good enough to be picked.
The second female teacher glared at him. "Good or not, she's willing to learn. And I like that. Rosa, is it?" Rosa nodded, her chin wobbling as she tried not to cry. "Rosa, would you like to join our afternoon choir class? We'll be meeting Mondays, Wednesdays, and Fridays to learn about music theory, composing music, and then practicing the songs we write?"
Rosa panicked. "I'm sorry, ma'am, but I don't know anything about writing music. I've never even played an instrument."
The teacher smiled, "Call me Ms. Thorpe. And don't worry; it's my job to teach you." The other two teachers grunted in annoyance, but Ms. Thorpe brushed them off. "So you're up for it? Our first meeting is Monday, at 3:30 PM, right here in this room."
The next Monday, Rosa ran to Room 247 as soon as the bell rang at 2:30 PM. Ms. Thorpe was already there and smiled when Rosa entered the room. The two got to talking about Rosa's history with music and about the music colleges Ms. Thorpe attended. The hour passed by quickly and the first class went well. Every Monday, Wednesday, and Friday, Ms. Thorpe and Rosa would meet right after school and talk about music for the hour before ensemble.
As the months went on, something became clear to Rosa and Ms. Thorpe. Rosa wasn't very good at singing. And she couldn't quite get the knack for any instruments. But what was even clearer was Rosa's passion and perseverance. Rosa quickly became the most looked-up-to member of the ensemble. Students regularly turned to her for advice on arrangement, tone, and, lyrics. Rosa studied hard and learned to compose her own music. She soon began to write songs that her classmates loved to sing.
The night one of her friends won the school talent show by performing a song Rosa had written, Rosa's parents met her backstage with a bouquet of flowers and very proud faces. Rosa couldn't stop smiling, and she started to squeal when she saw Wendy run to her. "I knew you could do it," Wendy said, hugging her.
"Me too," Rosa smiled, "Even if I did do it a bit differently than I'd hoped!"
THE END.
Visit your local library and find the original Rapunzel story, books about festivals in other cultures, and adventure stories!