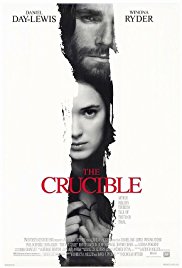 THE CRUCIBLE
SUBJECTS — U.S./1629 – 1750, 1945 – 1991; & Massachusetts; Drama/U.S.;
SOCIAL-EMOTIONAL LEARNING — Justice; Marriage;
MORAL-ETHICAL EMPHASIS — Trustworthiness; Fairness.
AGE; 14+; MPAA Rating — PG-13 for intense depiction of the Salem witch trials;
Drama; 1996; 124 minutes; Color. Available from Amazon.com.
This Learning Guide contains curriculum materials that are helpful in presenting both the play and the film.
One of the Best! This movie is on TWM's short list of the best movies to supplement classes in United States History, High School Level.