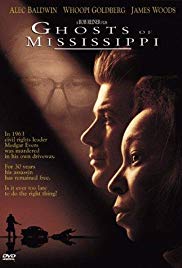 THE GHOSTS OF MISSISSIPPI
SUBJECTS — U.S./1945 – Present, Diversity, the Law; & Mississippi;
SOCIAL-EMOTIONAL LEARNING — Courage; Justice;
MORAL-ETHICAL EMPHASIS — Trustworthiness; Responsibility; Citizenship.
AGE; 13+; MPAA Rating — PG-13 (for a strong scene of violence and for racist dialogue);
Drama; 1996; 123 minutes; Color. Available from Amazon.com.
One of the Best! This movie is on TWM's short list of the best movies to supplement classes in United States History, High School Level.