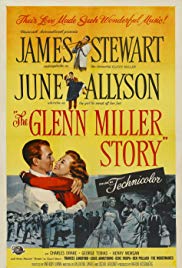 THE GLENN MILLER STORY
SUBJECTS — Biography; Music/Popular; U.S.: 1929 -1945;
SOCIAL-EMOTIONAL LEARNING — Talent;
MORAL-ETHICAL EMPHASIS — Trustworthiness.
AGE: 12+; MPAA Rating — G;
Drama; 1954; 113 minutes; Color. Available from Amazon.com.
MOVIE WORKSHEETS & STUDENT HANDOUTS
This film is a Hollywood "biopic" of Glenn Miller, a popular and influential big band leader of the 1930s and early 1940s. Glenn Miller died serving his country in World War II.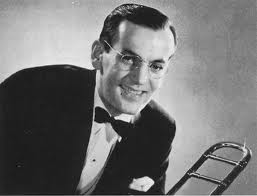 Selected Awards:
1954 Academy Awards: Best Sound; 1954 Academy Award Nominations: Best Story and Screenplay, Best Original Score.
Featured Actors:
James Stewart, June Allyson, Harry Morgan, Charles Drake, Gene Krupa, Louis Armstrong, Ben Pollack.
Director:
Anthony Mann.
"The Glenn Miller Story" will introduce children to Miller's music and to his patriotism. Classics such as "In the Mood," "String of Pearls" and "Little Brown Jug" are featured. The film will fill in some details about life in the U.S. from 1929 to 1945. It has cameo roles by such stars as Louis Armstrong and Gene Krupa, playing themselves.
Play some Glenn Miller music at home and tell your child what you are playing. Ask and help your child to answer the Quick Discussion Question.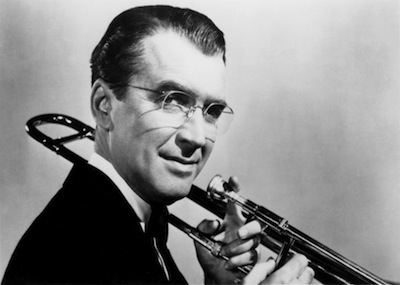 Alton Glenn Miller (1904 – 1944) was a trombone player, arranger, and band leader of the late 1930s and early 1940s. One of Miller's innovations was the use of the clarinet as the lead instrument supported by four saxophones. Miller's band became a nationwide success in 1939. In 1942, Miller tried to enlist in the Navy but was turned down because he was too old. He persisted in his efforts to help his country and convinced the Army to allow him to organize a band to help improve morale. He formed a 42 piece Army Air Force Band which made regular radio broadcasts in the U.S. during 1943 and in England during 1944. In December 1944 the small plane that was taking him to lead a concert in Paris disappeared over the English Channel.
SOCIAL-EMOTIONAL LEARNING
TALENT
1. Would Glenn Miller have served his country better as a sailor on a naval vessel or by making music to entertain the troops?
2. In the early part of his career, Miller sacrificed many things to develop his music. Name some of them.
MORAL-ETHICAL EMPHASIS (CHARACTER COUNTS)
Discussion Questions Relating to Ethical Issues will facilitate the use of this film to teach ethical principles and critical viewing. Additional questions are set out below.
TRUSTWORTHINESS
(Be honest; Don't deceive, cheat or steal; Be reliable — do what you say you'll do; Have the courage to do the right thing; Build a good reputation; Be loyal — stand by your family, friends and country)
ASSIGNMENTS, PROJECTS & ACTIVITIES
This Learning Guide was last updated on August 9, 2010.