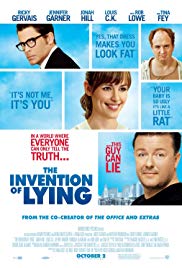 THE INVENTION OF LYING
A LESSON PLAN ON SOCIAL SATIRE
SUBJECTS — ELA: Social Satire;
SOCIAL-EMOTIONAL LEARNING — Romantic Relationships;
MORAL-ETHICAL EMPHASIS — Trustworthiness; Caring.
AGE: 13+; MPAA rating PG-13 (for language, including some sexual material, and a drug reference);
2009, 100 minutes; color. Available from Amazon.com.
Note to Teachers:
The introduction and the assignments are suitable for any film that contains social satire. Discussion Questions 1 – 3 are particular to The Invention of Lying. Discussion questions 4 and 5 are suitable for use with any film.