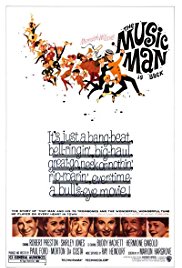 THE MUSIC MAN
SUBJECTS — Drama/Musicals; U.S./1865 – 1913;Dance/Performance;
SOCIAL-EMOTIONAL LEARNING — Romantic Relationships;
MORAL-ETHICAL EMPHASIS — Trustworthiness.
AGE: 6+; No MPAA Rating;
Musical; 1962; 151 minutes; Color. Available from Amazon.com.
A con artist, "Professor" Harold Hill, comes to a small Iowa town in the early 1900s. He convinces the town that it needs a marching band, taking orders for the necessary instruments and uniforms. He also sells music lessons in advance, concealing the fact that he cannot read or play a note of music. In the process, Professor Hill galvanizes the town out of its torpor and falls in love with the local librarian/music teacher.
Selected Awards: 1962 Academy Awards: Best Music; 1963 Golden Globe Awards: Best Picture – Musical; 1962 Academy Awards Nominations: Best Picture; Best Art Direction-Set Decoration; Best Sound; Best Film Editing; Best Costume Design. This film is listed in the National Film Registry of the U.S. Library of Congress as a "culturally, historically or aesthetically significant" film.
Featured Actors: Robert Preston, Shirley Jones, Hermione Gingold, Paul Ford, Buddy Hacket, and Ron Howard.
Director: Morton DaCosta.
This musical shows small-town life in the U.S. at the turn of the 20th century and provides an opportunity to discuss the ennobling power of love and the civilizing influence of marching bands in rural England and the U.S. "The Music Man" is the original setting for songs such as "Seventy-Six Trombones" and "Till There Was You." The choreography and dance numbers are vibrant and striking.
QUICK DISCUSSION QUESTION:
Does Professor Hill find love and dishonesty to be compatible with each other?
Suggested Response:
No. Love requires meaningful communication which cannot exist in an atmosphere of deceit.
1. See Discussion Questions for Use With any Film that is a Work of Fiction.
2. What benefit did Professor Hill bring to River City?
3. Why did Professor Hill have to get out of the business of selling steam automobiles?
4. Why did Professor Hill say he was going wherever the people were as green as the money?
5. What did the librarian mean when she said that Professor Hill had the whole town "mesmerized?" Who was Dr. Mesmer?
Suggested Response:
Mesmer was an early practitioner of hypnotism.
6. What is the perfect pitch?
7. What is a lisp? Why did the little girl, Amaryllis, laugh at the little boy when he tried to say her name? Was that the right thing to do?
8. What does this movie have in common with the fairy tale of "The Emperor's New Clothes?"
9. What was Professor Hill doing in the song "You Got Trouble"?
SOCIAL-EMOTIONAL LEARNING
MORAL-ETHICAL EMPHASIS (CHARACTER COUNTS)
Discussion Questions Relating to Ethical Issues will facilitate the use of this film to teach ethical principles and critical viewing. Additional questions are set out below.
TRUSTWORTHINESS
(Be honest; Don't deceive, cheat or steal; Be reliable — do what you say you'll do; Have the courage to do the right thing; Build a good reputation; Be loyal — stand by your family, friends, and country)
1. What did Professor Hill mean when he accused Marcellus of "going legitimate?"
2. What is a traveling salesman? How is a traveling salesman different from a con man?
Suggested Response:
See Oklahoma!.
3. Why did the traveling salesmen hate Professor Hill?
ASSIGNMENTS, PROJECTS & ACTIVITIES
BUILDING VOCABULARY:
perfect pitch, mesmerized.