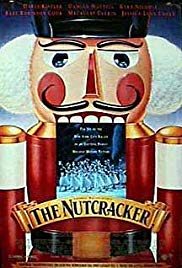 THE NUTCRACKER
SUBJECTS — Dance;
SOCIAL-EMOTIONAL LEARNING — Romantic Relationships;
MORAL-ETHICAL EMPHASIS — Respect.
Balanchine/New York City Ballet Version: Age: 5+; MPAA Rating — G; Ballet; 1993; 93 minutes; Color; Available from Amazon.com. This version is probably best for very young children.
Baryshnikov/American Ballet Theater Version: Age: 8+; No MPAA Rating (but suitable for all ages); Ballet; 1977; 79 minutes; Color; Available from Amazon.com. This version is probably best for children ages 10 and up.
MOVIE WORKSHEETS & STUDENT HANDOUTS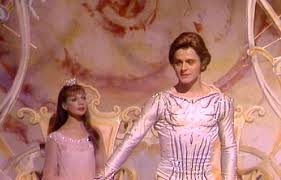 This Christmas sugarplum is probably the most popular ballet in the world. It begins with a Christmas Eve party in an eighteenth century Northern European home. The mysterious godfather Drosselmeyer appears, bringing mechanical dolls which perform impressive dances before they wind down and are put away. He then gives a nutcracker doll to his favorite, young Marie (Clara in the Baryshnikov/ABT version). Her naughty brother Franz takes it from her and breaks the Nutcracker. The young girl is crestfallen but godfather Drosselmeyer repairs it. After the party, she drifts off to sleep beside the Christmas tree, cradling her beloved new doll. In a fantastic dream, the tree grows to outlandish size as magic overtakes her world. Evil mice, led by their king, try to attack Marie/Clara.
In the Balanchine/NYC Ballet production, following the classic story and using the classic dances, Drosselmeyer's young nephew, who had fascinated Marie at the party the evening before, becomes the Nutcracker and defeats the Mouse-King. He then sits with Marie as the Sugarplum Fairy presents dancers to them suggested, as is frequently the case in dreams, from events of the day before: Spanish/chocolate, Arabian/coffee, Chinese/tea; Russian or Candy cane, Waltzing flowers and Whirling mirlitons/marzipan.
The Baryshnikov/ABT version departs from the classic story line during the dream sequence. The Nutcracker and the Mouse-King fight and both are killed; but the mice defeat the toy soldiers. Suddenly Drosselmeyer appears, revives the Nutcracker and turns him into a handsome prince. The Nutcracker/Prince spirits Clara away through a forest of snow sprites. They arrive in the kingdom of the Sugarplum Fairy where they are royally entertained by a suite of delectable divertissements (short dances) sparked by memories of the day before: Spanish/chocolate, Arabian/coffee etc. But it is, after all, a dream and Drosselmeyer appears to summon Clara back to reality as a young girl with dreams for the future.
The Balanchine/NYC Ballet offering presents the ballet as a movie production using the classical dances and following the traditional story line. This film is the best to show to very young children (under 10). The cast includes a large number of child dancers with whom they can identify. Marie is very naturally acted and well danced by Jessica Lynn Cohen. Kevin Kline's narration provides a clear framework for understanding the action. The production is spirited and entertaining. Our only criticism is that Macaulay Culkin is shamelessly miscast as Dr. Drosselmeyer's nephew, a transparent effort to attract audiences by importing a movie star. He is not a dancer and, in this production, doesn't look like much of an actor.
The Baryshnikov/ABT version is better for older children, well danced and very accessible. Baryshnikov breathes new life into the ballet, departing from the standard narrative to offer a fresh psychological/developmental interpretation. Clara's dream is clearly shown as an awakening to the possibilities of romance in young womanhood. Baryshnikov retains the traditional framework cutting out some of the conventional choreography and replacing it with fresh ideas of his own. Another advantage of the Baryshnikov version is that he dances the Nutcracker/Prince role at the height of his power as a classical dancer. Gelsey Kirkland's Clara is both girlish and technically brilliant. Overall, despite a few passages that do not work, Baryshnikov's initiative in doing something new and ambitious with this ballet is a great success.
Balanchine/NYC Ballet Version:
Featured Dancers: Darci Kistler, Damian Woetzel.
Director: Emile Ardolino.
Choreography: Emile Ardolino.
Baryshnikov/American Ballet Theater Version:
Featured Dancers: Mikhail Baryshnikov and Gelsey Kirkland.
Director: Tony Charmoli.
Choreography: Baryshnikov based on Petipa, Ivanov, and Balanchine.
Filled with themes that will interest both boys and girls, this film is an excellent introduction to ballet. Older children who are interested in ballet will enjoy the technical virtuosity of the dancers. The "Nutcracker" can also serve as the basis for a discussion of the little girl's dream and an introduction to the role of wish fulfillment and remnant memories in the creation of dreams.
"The Nutcracker" is frequently performed at Christmas by local and regional ballets. Many of these productions are excellent and offer close to professional quality. Better than watching the films is to take children to one of these performances where they can see children and adults from their own community perform on stage. Check your local newspaper for listings. If your children show interest in the stage production, you can watch one of these films with them and compare.
Ask and help your child to answer the Quick Discussion Question. Allow your child to watch the movie several times and continue to bring up discussion questions relating to the film.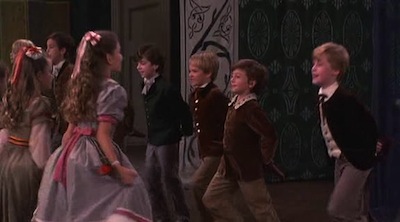 The ballet is based on "The Nutcracker or the Tale of the Hard Nut" by E.T.A. Hoffman, and a book revision by Alexandre Dumas. The original choreography was by Marius Petipa and Lev Ivanov, to a score that Tchaikovsky wrote in 1892. (The great composer was not initially pleased with his work!) It was first performed in the United States in 1942 by the San Francisco Ballet.
We viewed several other recorded productions, including the Royal Ballet version which we thought lacked warmth and a Bolshoi Ballet offering which featured an obviously mature ballerina as Clara and, surprisingly, showed a lack of technical expertise in the dancing.
A German "Renaissance man," E.T.A. Hoffman (1776-1822) was an artist, composer, and writer who was originally educated as a jurist. His literary work, which influenced Carl Jung and Sigmund Freud, featured supernatural characters who reveal people's hidden secrets. The father of the fantasy/ horror story or novella, he was the forerunner of American authors Washington Irving, Nathaniel Hawthorne, and Edgar Allen Poe.
For more on the Russian contribution to ballet and Marius Petipa, see Learning Guide to "The Red Shoes".
1. See Discussion Questions for Use With any Film that is a Work of Fiction.
2. "The Nutcracker" is based on a fairy tale. Fairy tales take the desires, fears and fascinations of children and explore them through the story. What childhood desires, fears or fascinations was this fairy tale based on?
3. What did you think of Drosselmeyer? Did he frighten you? Describe the reasons for your reaction to him.
4. The dolls with which Drosselmeyer entertains the party appear to come to life for a time. Then the Nutcracker and the toy soldiers come alive in Marie/Clara's dream. The Eighteenth century was the beginning of the industrial revolution. What does that have to do with the dolls that appear so lifelike in this story?
5. Describe the role of wish fulfillment in Marie/Clara's dream and list each of the various wishes that she had that were expressed in the dream.
6. What aspects of Clara's dream were sparked by events of the Christmas party of the previous day?
7. Have you ever had dreams in which a toy or an inanimate object came alive and started to act on its own? What happened in your dream?
SOCIAL-EMOTIONAL LEARNING
ROMANTIC RELATIONSHIPS
1. Why, in her dream, does Marie/Clara make the Nutcracker into a handsome prince?
2. Why is it important to a girl that her boyfriend be a handsome prince?
3. Why do so many fairy tales have handsome princes in them?
MORAL-ETHICAL EMPHASIS (CHARACTER COUNTS)
Discussion Questions Relating to Ethical Issues will facilitate the use of this film to teach ethical principles and critical viewing. Additional questions are set out below.
RESPECT
(Treat others with respect; follow the Golden Rule; Be tolerant of differences; Use good manners, not bad language; Be considerate of the feelings of others; Don't threaten, hit or hurt anyone; Deal peacefully with anger, insults, and disagreements)
1. Who in this ballet doesn't treat others with respect?
2. Franz, the little brother, breaks the Nutcracker. How do his actions relate to the Six Pillars of Character?
ASSIGNMENTS, PROJECTS & ACTIVITIES
This Learning Guide was last updated on December 17, 2009.