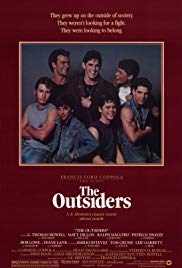 THE OUTSIDERS
SUBJECTS — Literature/U.S.; U.S./1945 – 1991;
SOCIAL-EMOTIONAL LEARNING — Brothers; Coming of Age; Courage; Fighting; Friendship; Peer Pressure; Redemption;
MORAL-ETHICAL EMPHASIS — Trustworthiness; Responsibility; Respect; Caring.
AGE: 11+; MPAA Rating PG-13 (for violence, teen drinking and smoking, and some sexual reference);
1983; 91 Minutes; Color. TWM recommends The Outsiders: The Complete Novel, a director's cut which is 1 hour, 54 minutes, incorporating 22 minutes of previously omitted footage and an updated musical score. It follows the novel more closely and is available from Amazon.com.
Read the Book First! The novel The Outsiders by S.E. Hinton is widely read in secondary schools across the nation. It is appropriate for readers over the age of 10 although some of the themes in the book are mature. The novel is regarded as an American classic.
This Learning Guide applies to both the movie and the book.