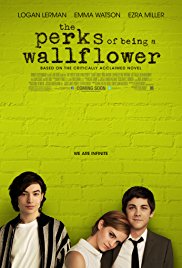 THE PERKS OF BEING A WALLFLOWER
SUBJECTS — Literature/U.S.;
SOCIAL-EMOTIONAL LEARNING — Child Abuse; Courage; GBLTQ; Friendship; Romantic Relationships; Mental Illness; Suicide;
MORAL-ETHICAL EMPHASIS — Caring.
AGE: 14+; MPAA Rating — PG-13 for mature thematic material, drug and alcohol use, sexual content including references, and a fight – all involving teens;
Drama; 2012; 103 minutes; Color. Available from Amazon.com.
Note to Teachers:
While this film contains several important life lessons for teens and is overall a positive experience, it also shows risky teen behavior, in particular, premarital sex, underage drinking, standing in the back of a pick-up truck going 40 – 60 mph, and taking marijuana and LSD. Teachers are advised to obtain parental and administrative permission before showing this movie. See TWM's Movie Permission Slip.
It is helpful to explain at least three things to a class that has watched this movie. First, when the actors in the film stood in the back of the pick-up truck, they were held in place with wires and many other off-screen precautions were taken to protect them. Second, marijuana, like many drugs, can have side effects, perhaps the most common is that frequent marijuana use can destroy motivation. Three, taking LSD sometimes causes people to do dangerous things and every once in a while they get hurt or they don't come back from the trip with a sound mind.
Have students read the book first. The novel is an excellent example of tone illuminating character and setting the groundwork for plot developments at the end of the story. The narrator's flat emotionless tone does not come through as clearly in the movie. Watching the film after reading the book will provide a demonstration of how written stories are translated to film.