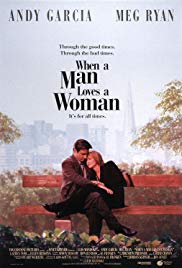 WHEN A MAN LOVES A WOMAN
With a Lesson Plan on Alcohol Abuse, Alcoholism and Codependence
SUBJECTS — U.S./1991 to Present;
SOCIAL-EMOTIONAL LEARNING — Alcohol & Drug Abuse; Parenting; Romantic Relationships; Marriage; Father/Daughter;
MORAL-ETHICAL EMPHASIS — Caring.
AGE; 13+
MPAA Rating — R for language; Drama; 1994; 126 minutes; Color;
Available from Amazon.com. (The profanity in this movie consists of the f— word and the s— word which have been heard and used many times by the vast majority of children over the age of 12. The rating is egregiously undeserved, especially in light of the tremendous educational value of this film. In our opinion, this movie is suitable for ages 13 and up.)
One of the Best! This movie is on TWM's list of the ten best movies to supplement classes in Health, High School Level.