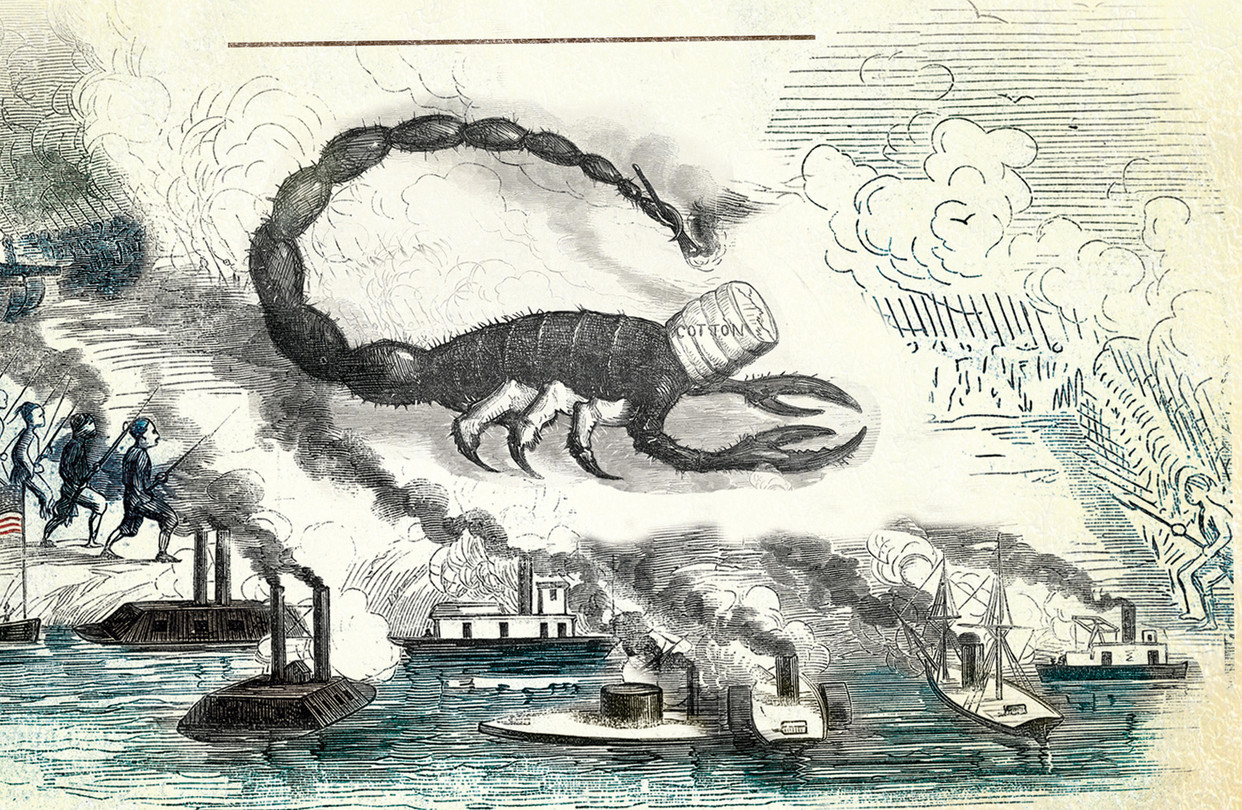 "The Scorpion Sting" as applied to slavery:
Before 1860, many abolitionists had a plan for ending slavery without war. It included the following: respect the constitutional right of the slave states to determine for themselves whether to permit or prohibit slavery; prevent the expansion of slavery into any new territory, specifically, the new territories of the West; encircle the slave states with a cordon of free territory; repeal or water-down the fugitive slave law so that slaves who reached free territory could not be arrested and returned to slavery; make Washington, D.C. a free territory which would make it easier for slaves from the bordering slave states of Maryland and Virginia to reach free territory; and cooperate with Great Britain in suppressing the already illegal transatlantic slave trade. The hope and prediction of the abolitionists was that within a few decades of the application of their policies by the federal government, slavery would die out and the Southern states would abolish it of their own accord. Oakes pp. 1 — 50.
By 1860, there was a popular metaphor by which Americans, North and South, described this plan. The metaphor was based on the myth (or perhaps it's true) that if a scorpion is completely surrounded by fire, it will eventually sting itself in its head and die. Ibid. p. 25. Thus, in the words of Sherrard Clemens, a pro-slavery Congressman from Virginia, the plan was "to encircle the slave States of this Union with free States as a cordon of fire, and that slavery, like a scorpion, would sting itself to death." Congressional Globe, 36th Cong., 1st Sesess., p. 586 quoted by Oakes at pp. 23 & 24.
While there is no record of Lincoln himself mentioning the Scorpion's Sting (so far as TWM as been able to determine), his positions in 1860, were close to the strategy of the Scorpion' Sting and would have slowly degraded the institution of slavery. The election of 1860 saw the first time that the federal government was under the control of a political party whose policies aggressively, if peacefully, sought the end of slavery. The leaders of the Slave Power agreed with the abolitionists that the policies of the Scorpion's Sting would sap slavery of at least some of its vitality. The Slave Power saw that with the policies of the Scorpion's Sting in place, the North's advantages in numbers and manufacturing power would only grow. So, 1861 was the best time to resist. And, due to the superior leadership of the Southern generals, such as Robert E. Lee, and the difficulty that the North had in finding generals who could match Southern military leadership, the Slave Power almost pulled it off.