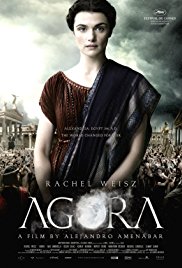 AGORA
ANCIENT ALEXANDRIA, HYPATIA, AND THE DECLINE OF GRECO-ROMAN CIVILIZATION
SUBJECTS — World/Ancient Greece, Rome; Egypt; Religions (Christianity & Judaism);
SOCIAL-EMOTIONAL LEARNING — Female Role Model;
MORAL-ETHICAL EMPHASIS — Respect.
AGE: Age: 13+
MPAA Rating — R for some violence (This rating is undeserved; given the less stringent standards used recently by the MPAA, the violence in Agora is comparable to films given a PG-13 rating); Drama; 2009, 127 minutes; Color. Available from Amazon.com.
Note to Teachers:
This film has many historical inaccuracies; however, it provides a compelling visual introduction the glory of ancient Alexandria; the breakdown of the belief system of the Greco-Roman civilization in the 5th century, CE; the sectarian violence that followed the rise of Christianity in Alexandria; and Hypatia, the greatest female mathematician, philosopher, astronomer and teacher of the ancient Greco-Roman civilization. The movie is also an occasion for students to learn about the Great Library/Museum, the city's knowledge industry, and Roman slavery. In addition to the its historical lessons, themes of the film include gender equality and the evils of intolerance and religious strife.
Two Ways to Present the Movie: The quick way is to provide students with the Introduction, in writing or through direct instruction, and then show the first 78 minutes of the movie or the entire film. Afterwards, have a short discussion with the class (see the suggested Discussion Questions) or have students complete an Assignment. If the whole movie is shown, be sure to review Additional Notes for Viewing the Entire Film. Consider presenting the class with the information set out in Add-ons to Link the Lesson to Later Events.
The second and recommended method of presenting the film is to follow the complete lesson plan set out below. The student reports in Section 2 will enrich the experience of watching the movie and the Add-ons to Link the Lesson to Later Events will take students beyond the time of the lesson to later events.