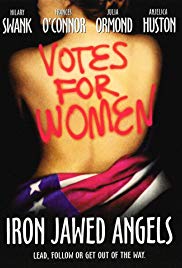 IRON JAWED ANGELS
SUBJECTS — U.S. History; Politics;
SOCIAL-EMOTIONAL LEARNING — Human Rights; Courage; Leadership; Female Role Model.
MORAL-ETHICAL EMPHASIS — Respect; Fairness; Citizenship.
AGE: 13+; No MPAA Rating (TWM estimates that if this HBO feature had been rated, the MPAA would have given it a PG-13 rating for some intense scenes of women being assaulted by crowds and tortured in prison); 2004; 123 minutes; Color. Available from Amazon.com.
TWM is proud to announce that it has acquired the rights to interviews of two women who participated in the Suffrage Movement: Jessie Haver Butler and Laura Ellsworth Seiler. Giving students the opportunity to read firsthand accounts of what life was like for girls and women in the late 19th and early 20th centuries will be an excellent supplement to any American History class. The files containing the interviews are large and take a few minutes to load. Students may also want to read Conversations with Alice Paul: Woman Suffrage and the Equal Rights Amendment, an interview conducted by Amelia R. Fry a few years before Alice Paul's death.
One of the Best! This movie is on TWM's short list of the best movies to supplement classes in United States History, High School Level.