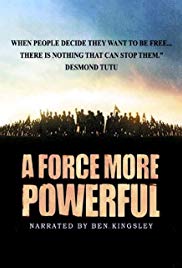 A FORCE MORE POWERFUL
SUBJECTS — World/India, Poland, Denmark, Chile, South Africa; 1800s – the; Present; Civics/Government; U.S./1945 the Present; Civil Rights Movement, Tennessee;
SOCIAL-EMOTIONAL LEARNING — Peace/Peacemakers;
MORAL-ETHICAL EMPHASIS — Citizenship.
AGE; 12+; No MPAA Rating;
Documentary; 1999; length: six sections each between 20 and 30 minutes in length; Color. Available from the filmmakers directly.
One of the Best! This movie is on TWM's short list of the best movies to supplement classes in United States History, High School Level.