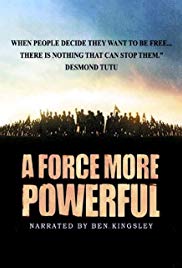 A FORCE MORE POWERFUL
SUBJECTS — World/India, Poland, Denmark, Chile, South Africa; 1800s – the; Present; Civics/Government; U.S./1945 the Present; Civil Rights Movement, Tennessee;
SOCIAL-EMOTIONAL LEARNING — Peace/Peacemakers;
MORAL-ETHICAL EMPHASIS — Citizenship.
AGE; 12+; No MPAA Rating;
Documentary; 1999; length: six sections each between 20 and 30 minutes in length; Color.  This film is available on a free download from the filmmakers directly translated into numerous languages.
One of the Best! This movie is on TWM's short list of the best movies to supplement classes in United States History, High School Level.