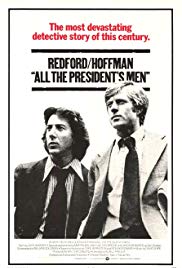 ALL THE PRESIDENT'S MEN
SUBJECTS — U.S./1945 – 1991 & Politics (the Watergate scandal, Nixon, Woodward & Bernstein);
SOCIAL-EMOTIONAL LEARNING — Courage; Teamwork;
MORAL-ETHICAL EMPHASIS — Trustworthiness; Responsibility; Fairness; Citizenship.
AGE; 12+; MPAA Rating — PG;
Drama; 1976; 135 minutes; Color. Available from Amazon.com.
ONE OF THE BEST! This movie is on TWM's short list of the best movies to supplement classes in United States History, High School Level.
MOVIE WORKSHEETS & STUDENT HANDOUTS
This movie describes how two young reporters from the Washington Post broke and pursued the story of the Watergate scandal (1972 – 1975). All the President's Men has become the way that many, if not most, Americans remember this important event in U.S. history.
Selected Awards:
1976 Academy Awards: Best Supporting Actor (Robards), Best Adapted Screenplay, Best Art Direction/Set Decoration, Best Sound; 1976 New York Film Critics Awards: Best Film, Best Director (Pakula), Best Supporting Actor (Robards); 1976 Writers Guild of America Awards: Best Adapted Screenplay; 1976 Academy Awards Nominations: Best Picture, Best Director (Pakula), Best Supporting Actress (Alexander), Best Film Editing.
Featured Actors:
Robert Redford, Dustin Hoffman, Jason Robards Jr., Martin Balsam, Jane Alexander, Hal Holbrook, F. Murray Abraham, Stephen Collins, Lindsay Crouse.
Director:
Alan J. Pakula.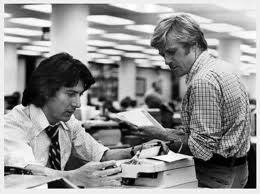 Bernstein & Woodward — as portrayed in the movie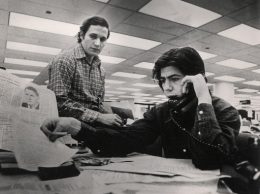 Benrstein — the Reporters