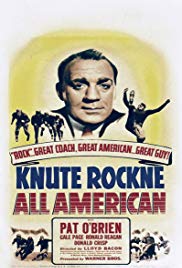 KNUTE ROCKNE – ALL AMERICAN
SUBJECTS — Sports/Football; U.S./1913 – 1929; Biography;
SOCIAL-EMOTIONAL LEARNING — Leadership; Sportsmanship; Talent;
MORAL-ETHICAL EMPHASIS — Responsibility.
AGE: 8+; No MPAA Rating;
Drama; 1940; 96 minutes; B & W. Available from Amazon.com.
MOVIE WORKSHEETS & STUDENT HANDOUTS
This is a romanticized Hollywood biography of Knute Rockne, possibly the most creative football coach of all time.
Selected Awards: This film is listed in the National Film Registry of the U.S. Library of Congress as a "culturally, historically or aesthetically significant" film.
Featured Actors: Pat O'Brien, Gale Page, Ronald Reagan.
Director: Lloyd Bacon.
Knute Rockne's Notre Dame football teams were the first to use the forward pass as a major offensive weapon. He also pioneered coordinated backfield movements, called "the shift," which is used to maximize the chance for a large gain on a running play. This film will acquaint children with this innovative man. It will provide an opportunity to discuss the view that college sports are a game subordinate to the important work of education: e.g., Knute Rockne never intervened with a teacher to get a higher grade for one of his players; if a player's grades were not good enough, he was off the team.
The film contains newsreel footage of Notre Dame football games.
MINOR. This is an old black and white film, acted in a style not current today. (Children should be accustomed to black and white films before they see this movie.) Rockne abandons a promising career as a research chemist and teacher to become a football coach. It is made clear that for all his talent in chemistry, coaching was where his heart and genius really lay.
The Catholic hierarchy of Notre Dame University is shown with unquestioning worshipful reverence. The recent sex abuse scandals in the Catholic Church have shown the danger of this attitude. Children watching this film should be warned that even a respected occupation, such as the priesthood, draws some people who abuse their position.
There are three important things to remember about Knute Rockne. First, he was very creative in his approach to football. If the old techniques weren't working, he thought up something new. Second, he understood that football was secondary to education and he never pressured a professor to give a good grade to a member of his team so that the boy would be eligible to play football. Third, he knew the importance of motivating his team. Share these thoughts with children who see this movie.
Knute Rockne (1888-1931) was an innovative football player and coach. His entire career was spent at the University of Notre Dame. He was born in Norway. In 1893, when Rockne was still a child, and his family emigrated to Chicago. After working for four years at the post office he attended Notre Dame and in 1913 served as captain of the Notre Dame football team.
The forward pass had been legal in football since 1903 but, before Knute Rockne, it had rarely been used by important college teams. Forced to the wall by a more powerful Army team in the 1913 season, Notre Dame used the pass as an integral part of its offense. The Army team was thrown off its game and Notre Dame won the game 35 – 13. The forward pass made football more exciting than it had been in the past, greatly increasing the sport's popularity.
Rockne was named head coach at Notre Dame in 1918 and served until his death in a plane crash in 1931. He was a master at motivating his players, as is shown by the movie, and he was one of the most successful coaches in the history of football. He led Notre Dame to national championships in 1924, 1929 and 1930. During Rockne's 13 year tenure as head coach, Notre Dame won 105 games, lost 12, and tied 5, for a winning percentage of .881.
George Gipp was a naturally talented football player for Notre Dame who died of a strep throat infection in 1920. (Antibiotics that could cure streptococcal infections were not in general use until the 1950s). At halftime in the 1928 Army game, Rockne motivated his dispirited team by telling them that George Gipp, on his death bed, had asked the team to "win one for the Gipper." There has been much controversy over whether Gipp actually made the statement, but Rockne maintained all his life that Gipp had said it. This is an example of Rockne's power to motivate his players.
Ronald Reagan played George Gipp in the movie. There is an interesting bit of trivia about this which provides a valuable lesson. Reagan was a football fan and had for years tried to put together a film about the life of Knute Rockne. Reagan wanted Pat O'Brien to play Rockne and Reagan wanted to play the part of George Gipp. He talked about the idea so much that Warner Brothers, then one of the dominant Hollywood studios, began a production of the film. O'Brien was slated to play Rockne but Reagan was ignored. When he heard about the production, Reagan rushed over to the Warner Brothers lot and asked the producer give him a screen test for the part of Gipp. The producer demurred saying that Reagan didn't look the part of a football player. Reagan soon returned with a photograph of himself when he had played football in college. He got the screen test and, eventually, the part. It was a turning point in his career.
SOCIAL-EMOTIONAL LEARNING
LEADERSHIP
1. Give three examples from the film of Knute Rockne displaying leadership skills.
SPORTSMANSHIP
2. Knute Rockne never intervened with a professor to raise the grades of his players so that they could meet the academic eligibility requirements for playing football. What does this have to do with sportsmanship?
TALENT
3. The search for synthetic rubber was an important scientific enterprise when Rockne graduated from college in the early 1900s. Should Rockne have forgone football and used his talent for innovation in the field of chemistry?
MORAL-ETHICAL EMPHASIS (CHARACTER COUNTS)
Discussion Questions Relating to Ethical Issues will facilitate the use of this film to teach ethical principles and critical viewing. Additional questions are set out below.
RESPONSIBILITY
(Do what you are supposed to do; Persevere: keep on trying!; Always do your best; Use self-control; Be self-disciplined; Think before you act — consider the consequences; Be accountable for your choices)
1. How did Knute Rockne honor the concept of responsibility by refusing to intervene with teachers so that his players would have grades high enough to maintain their eligibility?
ASSIGNMENTS, PROJECTS & ACTIVITIES
This Learning Guide was last updated on December 10, 2009.