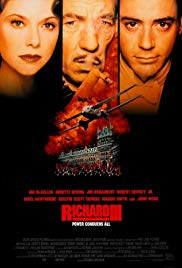 RICHARD III
SUBJECTS — Drama/England; World/England;
SOCIAL-EMOTIONAL LEARNING — Brothers; Ambition;
MORAL-ETHICAL EMPHASIS — General.
AGE: 12+; No MPAA Rating;
Drama; 161 minutes; Color. Available from Amazon.com.
MOVIE WORKSHEETS & STUDENT HANDOUTS
This is the classic Lawrence Olivier version of Shakespeare's play "Richard III."
To understand this film better, children (and adults) should first see Looking for Richard in which Al Pacino gives an entertaining introduction to the play and its historical and dramatic background.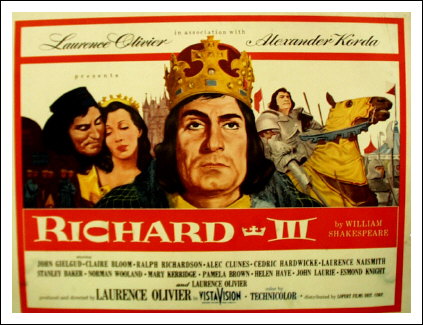 Selected Awards:
1957 Golden Globe Awards: Best English Language Foreign Film; 1957 Academy Awards Nominations: Best Actor (Olivier).
Featured Actors:
Sir Lawrence Olivier, John Gielgud, Claire Bloom, Pamela Brown, Alec Clunes, Cedric Hardwicke.
Director:
Sir Lawrence Olivier.
"Richard III" is a study in ambition run amok. It is a classic drama and contains beautiful poetry. The film is also an excellent introduction to Shakespeare's histories. With the corrections and supplementation contained in the Learning Guide to "Looking for Richard", the movie can be a valuable adjunct to the study of the Wars of the Roses, a pivotal time in English History.
For the remainder of this Learning Guide, see Learning Guide to "Looking for Richard".
Olivier, following a long tradition, has modified the play by adding a scene and moving a few scenes around in an effort to make the meaning clearer to a modern audience.
This Learning Guide was last updated on December 17, 2009.