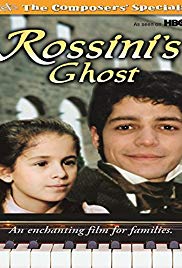 ROSSINI'S GHOST
SUBJECTS — Biography; Music/Opera; World/Italy;
SOCIAL-EMOTIONAL LEARNING — Friendship; Talent;
MORAL-ETHICAL EMPHASIS — Responsibility.
AGE: 6 – 12; No MPAA Rating;
Drama; 1996; 52 minutes; Color. Available from Amazon.com.
MOVIE WORKSHEETS & STUDENT HANDOUTS
This is a charming tale of a little girl who finds herself magically transported in time to the opening night of Rossini's classic opera, "The Barber of Seville." The first performance has just ended. The audience didn't like the opera. Rossini, then at the beginning of what was to be a distinguished and prolific career, is thinking of giving up. The little girl helps convince Rossini to continue composing.
Selected Awards:
This film is a part of the "Composers' Specials." The series received the 1996 CableACE Award for Best Children's Series and was a Gemini Award Winner (Canada's Emmy) for Best Youth Program or Series. The series was also awarded the American Library Association's Recommendation to all public schools and libraries in 1996. "Rossini's Ghost" itself won the 1997 Golden Sheaf Award for Children's Production; the Oppenheim Golden Seal Award for Best Children's Videos; and the KIDS FIRST Award for Best Children's Video from The Coalition for Quality Children's Video.
Featured Actors:
Joseph DiMambro, Melissa Pirrera, Frances Bay, Margaret Illmann, Jane Mortil, Lally Cadeau, Tony Nardi.
Director:
David Devine.
"Rossini's Ghost" introduces children to Rossini, to his music, and to his most famous opera, "The Barber of Seville." It also has volumes to say about friendship.
Around the time that your child watches this movie, play some of Rossini's music and tell your child what it is. Ask and answer the Quick Discussion Question. If your child is very interested in the film, go through some of the other Discussion Questions.
Gioacchino Antonio Rossini (1792 – 1868) composed 37 operas, including "The Barber of Seville" and "William Tell." His operas are in the bel canto style which emphasizes the beauty of the melodic line rather than emotion and drama. Rossini was the most successful operatic composer of his time.
In 1816 Rossini went to Rome to write operas for the audiences of that city. His first attempt was a failure, as was the second, "The Barber of Seville." However, when this opera was performed outside of Rome, it was an immediate success. "The Barber of Seville" is still one of the most popular operas in the repertoire of modern opera companies.
In addition to writing 35 operas, Rossini wrote choral music, string quartets, music for the piano, and songs.
Rossini, married and wealthy, retired from writing operas in 1830. He was 48 years of age and at the height of his powers. No one knows the reason for this silence. In his retirement he wrote a few religious works.
SOCIAL-EMOTIONAL LEARNING
FRIENDSHIP
See the Quick Discussion Question.
TALENT
1. What would have happened if Rossini had abandoned his career that evening? Do you know what compelled him to keep going?
MORAL-ETHICAL EMPHASIS (CHARACTER COUNTS)
Discussion Questions Relating to Ethical Issues will facilitate the use of this film to teach ethical principles and critical viewing. For convenience, the ethical principle of Responsibility is set out below.
RESPONSIBILITY
(Do what you are supposed to do; Persevere: keep on trying!; Always do your best; Use self-control; Be self-disciplined; Think before you act — consider the consequences; Be accountable for your choices)
ASSIGNMENTS, PROJECTS & ACTIVITIES
This Learning Guide was last updated on December 17, 2009.