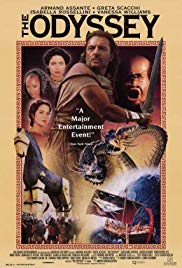 THE ODYSSEY
SUBJECTS — World/Ancient Greece; Mythology; Literature; Seafaring;
SOCIAL-EMOTIONAL LEARNING — Humility; Surviving; Marriage; Leadership; Courage;
MORAL-ETHICAL EMPHASIS — Trustworthiness; Responsibility.
AGE: 14+ for the film; 11+ for the book; MPAA Rating — PG-13 (for violent sequences and some sensuality);
Drama; 1997; 165 minutes; Color. Available from Amazon.com.
Read the Book First!
The ancient epic poem The Odyssey is an absorbing, action-packed adventure full of exciting battles, fascinating situations, interesting characters, and fantastic beings. Robert Fitzgerald's award-winning translation reads easily and is engrossing, almost like a modern popular novel. It is comprehensible to any child who reads at a 10th-grade level. (Many children read at this level much earlier than the age of 15.) The book transports the reader back in time: children (and adults) can easily envision being at the banquet hall of a Greek nobleman listening to the story recited by a blind poet. It is a great loss for any child not to have read The Odyssey before he or she graduates from high school! Click here for an example of the beautiful language of this book.
While the movie is interesting, Homer's tale is truly exceptional. The film is best used in conjunction with reading the book. Therefore, this Learning Guide focuses on the book. It will help teachers prepare lesson plans for classes with students who are reading the entire epic. For parents, we suggest that you read the book to or with your child. Very good readers can start the Fitzgerald translation on their own at about age 11. This Learning Guide will also help parents discuss the book with their children.