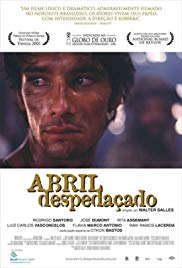 BEHIND THE SUN
Also known as "Abril Despedaçado"
SUBJECTS — World/Brazil & Albania; Literature/Literary devices: symbols, subplot, flashback, foreshadowing, and irony;
SOCIAL-EMOTIONAL LEARNING — Revenge; Breaking Out; Brothers; Father/Son; Romantic Relationships;
MORAL-ETHICAL EMPHASIS — Caring; Responsibility.
AGE; 12+
Rated PG-13 (for a scene of sexuality and some violence); Drama; 91 minutes; Color; 2001. Available from Amazon.com.
Note to Teachers: 21st-century American teenagers watch this film with rapt attention. Its two protagonists are young, and students identify with their struggles. The movie is in Portuguese with English subtitles. Because of the film's compelling story and its ability to pull teenagers into its world, students don't have a problem with the subtitles.
Before using this movie, look for recent newspaper articles relating to blood feuds to show to the class. They appear periodically.
One of the Best! This movie is on TWM's list of the best movies to supplement classes in English Language Arts, High School Level. The film is also excellent for Health and Social Studies Classes.