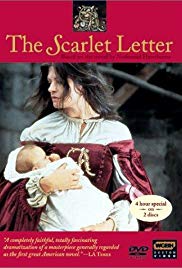 THE SCARLET LETTER
SUBJECTS — U.S./1629 – 1750 & Massachusetts; Religions/Christianity; Literature/U.S.;
SOCIAL-EMOTIONAL LEARNING — Redemption; Romantic Relationships; Revenge;
MORAL-ETHICAL EMPHASIS — Trustworthiness; Responsibility.
AGE; 12+; No MPAA Rating (but suitable for all ages);
Drama; 1979; 240 minutes; Color. Available from Amazon.com. (Teachwithmovies.org does not recommend the 1995 version starring Demi Moore.)
One of the Best! This movie is on TWM's list of the best movies to supplement classes in English Language Arts, High School Level.