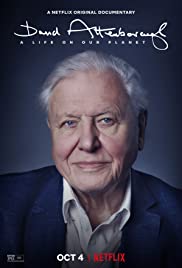 DAVID ATTENBOROUGH: A LIFE ON OUR PLANET
SUBJECTS — The Environment;
SOCIAL-EMOTIONAL LEARNING — Surviving;
MORAL-ETHICAL EMPHASIS — Respect;
AGE:  Rated PG, age 9+;
2020; 1 hour 23 minutes; Color. Available on Netflix.com.
Give your students an image that could change their lives.  Check out "

The Sealed

Petri Dish  Assignment!

"
In this Learning Guide citations to Mr. Attenborough's book, A Life on Our Planet – My Witness Statement and a Vision for the  Future, written with Jonnie Hughes, will be to "Attenborough" with a page reference.