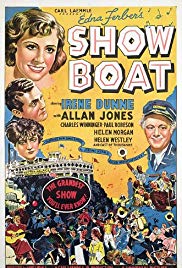 SUBJECTS — U.S./1865 – 1913 & Diversity; Cinema; Drama/Musicals; Dance/Performance;
SOCIAL-EMOTIONAL LEARNING — Marriage; Romantic Relationships; Alcohol and Drug Abuse; Gambling Addiction;
MORAL-ETHICAL EMPHASIS — Respect.
AGE; 11+; No MPAA Rating;
Musical; Two versions: 1936 ( 113 minutes, B & W) and 1951 (107 minutes, Color). Available from Amazon.com.
These films are adaptations of the 1927 Broadway musical. They feature fabulous songs such as "Ol' Man River," "Make Believe," "Can't Help Lovin' Dat Man," and "Bill." Each version of the film has a slightly different focus and its own strengths and weaknesses. The 1951 version is probably best for children. It is in color, the plot is tighter (focusing on the tragic life of Julie LaVerne), the dancing is excellent, and there are fewer dated scenes. However, the 1936 version is preferred by many. It makes the black characters (Joe and Queenie) into real people and features Paul Robeson singing his incomparable rendition of "Ol' Man River."
The story revolves around life on a sternwheeler which plies the Mississippi River giving performances at each stop. One of the performers is a mulatto woman seeking to pass as white. The characters have trouble with alcohol and gambling addiction. The Broadway musical "Show Boat" was adapted from a novel of the same name by Edna Ferber.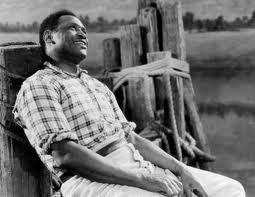 1936 Version:
Selected Awards: The 1936 version of "Show Boat" is listed in the National Film Registry of the U.S. Library of Congress as a "culturally, historically or aesthetically significant" film. This film is ranked #24 on the American Film Institute's List of the 25 Greatest Movie Musicals (2006).
Featured Actors: Irene Dunne, Allan Jones, Helen Morgan, Charles Winninger, Paul Robeson, Hattie McDaniel, Helen Whestly, Queenie Smith and Sammy White.
Music and Lyrics: Jerome Kern, Oscar Hammerstein, II, and others.
Director: James Whale.
1951 Version:
Selected Awards: 1952 Academy Awards Nominations: Best Music and Best Color Cinematography.
Featured Actors: Kathryn Grayson, Ava Gardner, Howard Keel, Joe E. Brown, Marge Champion, Gower Champion, Robert Sterling, Agnes Moorehead. Ava Gardner's vocals were dubbed by Annette Warren.
Music and Lyrics: Jerome Kern, Oscar Hammerstein, II and others.
Director: George Sidney.
Review the information in the Helpful Background section with your child. Ask and discuss with your child the Quick Discussion Question. Assure your child that you would accept whomever he or she really loved. See Guess Who's Coming to Dinner. Tell them that your criteria in evaluating someone he or she may choose will be first whether the relationship is good for the child and second whether the person chosen is respectful to the family. You may have hopes on other issues, that the person makes a good living, or is of some race or religion, but these are truly secondary. Ultimately, it is the child's choice.
TeachWithMovies.org recommends that every child in any family in which there is any history of heavy drinking or alcohol abuse be taken to an open AA meeting beginning at the age of 12 or 13. This should be repeated every year or so. Some meetings are divided into two parts. Try to stay for the second part. That's when specially selected speakers talk about the difficulties they encountered while intoxicated and their new lives in sobriety. Tell the kids that if they ever have trouble with alcohol, the twelve steps of AA are a way that they can avoid the destructive effects of alcoholism. For more information, see Handout on Alcohol and How it Affects Us.
The Mississippi River is the largest river in the United States. It flows from North to South beginning in Minnesota and emptying into the Gulf of Mexico below New Orleans. Its chief tributaries are the Ohio and Missouri rivers but it has some 250 others. The Mississippi's main course is 2,348 miles. The river has been a major transportation artery of the United States since before the Louisiana Purchase. During the period of this story, steamboats were the principal means of transportation on the river. Point out or have the children show you the course of the Mississippi River on a globe or a map.
Racially mixed marriages are disapproved of in many societies. It is only recently that they have been accepted in the United States. As late as 1967 it was a crime in some states for persons of different races to be married. These "anti-miscegenation laws" originated in colonial era efforts to protect the interests of slaveholders in their "property." After slavery was outlawed in 1865, the anti-miscegenation laws were retained or reimposed to preserve "racial purity." They were aimed primarily, but not exclusively, at blacks. Many states repealed their anti-miscegenation laws During the Civil Rights Movement. The remaining laws against mixed marriages were struck down as violating the equal protection and due process clauses of the Constitution. See Loving v. Virginia, 388 U.S. 1 (1967). For a table showing the increasing frequency of mixed race marriages in the United States, see Learning Guide to Guess Who's Coming to Dinner.
"Show Boat" was the first musical that dealt with important social issues, in this case, racial discrimination and mixed marriages. The musical had a cohesive plot and the songs were tied to the events in the stories. This was a first for American musicals which, until that time, had simply been insubstantial showcases for music and dancing. "Show Boat" changed the direction of the genre and set the standard for musicals that came after. The original Broadway production of "Show Boat" ran 572 performances and it has been revived on Broadway and throughout the world on many occasions.
The minstrel show was an art form that originated with black entertainers, primarily freed slaves. It reached its peak from 1850 – 1870. Minstrel shows were also often performed by whites who would put black make-up on their faces and present caricatures of slave performers. While the minstrel show and blackface performance gradually died out in the early 20th century, Al Jolson, perhaps the most popular performer of minstrel show routines, performed until about 1940. See The Jazz Singer.
QUICK DISCUSSION QUESTIONS:
What do you think your parents would do if you brought home a boyfriend or girlfriend of a different race? Would it make a difference which race?
What do you think your parents would do if you brought home a boyfriend or girlfriend of a different religion? Would it make a difference which religion?
Suggested Response:
The discussion of these questions should be guided to show how people should not object to friends of different races. Friends should be judged on their qualities as human beings: are they good-hearted and ethical; do they have a unique quality that can be appreciated, etc.
1. See Discussion Questions for Use With any Film that is a Work of Fiction.
2. Some say that in several hundred years most Americans will have blood in them from all races and that there will no longer be whites, blacks, and Asians. Do you agree that this will happen? What are the benefits and the detriments if this occurs?
3. Has this movie changed your feelings about mixed marriages in any way? If it has, describes the changes.
SOCIAL-EMOTIONAL LEARNING
ROMANTIC RELATIONSHIPS
See Discussion Questions above.
ALCOHOL AND DRUG ABUSE; GAMBLING ADDICTION
See Handout on Alcohol and How it Affects Us
1. In the 1951 version, do you think that Gay Ravenal had brought his gambling addiction under control at the end of the film? Was it realistic to think that he could just one day decide not to gamble any more? Compare this to the 1936 version in which knowing that he had a daughter, Ravenal left his family so that he could continue to gamble. He stayed away until Magnolia was grown.
2. In the 1936 version, was it realistic that the family, including Magnolia, would take Gay Ravenal back after seeing him again for just a few minutes after such a long absence?
3. Magnolia was "codependent" with respect to Gay Ravenal's gambling addiction. Describe what that word means and how her conduct in accepting, making excuses for, and failing to insist that he rid himself of his gambling addiction contributed to it.
4. Compare how gambling addiction and alcohol addiction are treated in the 1936 version. Does the attitude toward these two diseases in the film differ from modern day attitudes toward gambling addiction and alcohol addiction?
MORAL-ETHICAL EMPHASIS (CHARACTER COUNTS)
Discussion Questions Relating to Ethical Issues will facilitate the use of this film to teach ethical principles and critical viewing. Additional questions are set out below.
RESPECT
(Treat others with respect; follow the Golden Rule; Be tolerant of differences; Use good manners, not bad language; Be considerate of the feelings of others; Don't threaten, hit or hurt anyone; Deal peacefully with anger, insults, and disagreements)
1. If the Caucasian race was supposed to be "superior" to the Negro race, did it make sense that one drop of Negro blood would make a person a Negro from the standpoint of Mississippi's antimiscegenation law?
[See questions in the "Marriage-Romantic Relationships" Section.]
ASSIGNMENTS, PROJECTS & ACTIVITIES
BUILDING VOCABULARY:
miscegenation, "antimiscegenation law," blackface, stern wheeler, mulatto.
MOVIES ON RELATED TOPICS:
See Guess Who's Coming to Dinner and White Nights. For another film in which life along the Mississippi is shown, see The Adventures of Huckleberry Finn.
EXTRA CREDIT:
Attendance at an open AA meeting is an excellent extra-credit activity. Some meetings are divided into two parts. Tell the kids to ask permission to stay for the second part. That's when specially selected speakers talk about the difficulties they encountered while intoxicated and their new lives in sobriety.