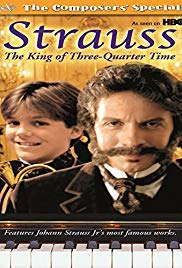 STRAUSS: KING OF THREE QUARTER TIME
SUBJECTS — Biography; Musical/Classical; World/Austria;
SOCIAL-EMOTIONAL LEARNING — Friendship; Child Abuse;
MORAL-ETHICAL EMPHASIS — Caring.
AGE: 6-12; No MPAA Rating;
Drama; 1996; 51 minutes; Color. Available from Amazon.com.
Johann Strauss, Jr., with his father, is responsible for the popularity of the great Viennese waltzes. This film shows a fictional friendship between Strauss and a stable boy who loves to play the horn. Strauss helps the boy stand up to his abusive stepfather. "Strauss: The King of Three-Quarter Time" is another Composers' Special, a set of award-winning children's films presenting fictional, but illustrative, episodes in the lives of great composers.
Selected Awards: The Composers' Specials received the 1996 CableACE Award for Best Children's Series and was a Gemini Award Winner (Canada's Emmy) for Best Youth Program or Series. The series also received the American Library Association's Recommendation to all public schools and libraries in 1996.
Featured Actors: Michael Riley, Derek Senft, Kate Trotter, Jill Frappier, Peter James Hayworth.
Director: Kitt Hood.
Johann Strauss, Sr., (1804 – 1849), the father of the musician portrayed in this film, was the great popularizer of the waltz. Developed in Vienna from the rustic dances of the Black Forest and the Danube uplands, the waltz is one of the most popular dances in the world. Johann, Sr. composed 152 waltzes and toured with his orchestra throughout Europe. He rose from an unknown bookbinder's apprentice to be the toast of Viennese society. His abilities as a composer and performer of this beautiful dance are legendary.
Johann, Sr. left his wife and children for a mistress, spending his money on her to the detriment of his family. When it appeared that Johann, Jr. had musical talent, his mother had him secretly trained. Johann, Sr. was outraged when he discovered this and did everything he could to discourage his son's musical career. For example, when it became known that Johann, Jr. wanted to hold his first concert, the father had his manager go to each concert hall in Vienna and warn them that if they employed his son or rented their hall to the boy, the elder Strauss would never perform there again. Given Johann Strauss Sr.'s popularity, this was a threat of economic extinction. Johann, Jr., at the age of 19, was forced to hold his first concert in the suburbs at a hall to which the manager had not yet been able to deliver the threat. Johann, Jr. was an immediate success and the rivalry between father and son continued for many years.
Johann Strauss, Jr. (1825 – 1899), the musician portrayed in this film, was as successful as his father. His compositions include: The Blue Danube, Tales from the Vienna Woods, Roses from the South and Voices of Spring. He toured Europe and America with his orchestra.
QUICK DISCUSSION QUESTION:
What would you have done had you been the stable boy and your father had abused you?
Suggested Response:
There is no one right answer to this question. The point to make when discussing this question is to that most children would have said nothing out of misplaced feelings of shame, guilt or loyalty. Unfortunately, this response allows the abuse to continue. After pointing this out, discuss strategies to stop the abuse, like leaving, confiding in a trusted adult, etc. The purpose of this question is to make children understand that the failure to immediately report abuse is nothing shameful and to encourage them to come forward. If a child tried to tell his or her story of abuse, go to a quiet isolated place so that the child can speak freely.
1. See Discussion Questions for Use With any Film that is a Work of Fiction.
SOCIAL-EMOTIONAL LEARNING
MORAL-ETHICAL EMPHASIS (CHARACTER COUNTS)
Discussion Questions Relating to Ethical Issues will facilitate the use of this film to teach ethical principles and critical viewing. Additional questions are set out below. One concept from The Six Pillars of Character that is raised in this film is:
CARING
(Be kind; Be compassionate and show you care; Express gratitude; Forgive others; Help people in need)
ASSIGNMENTS, PROJECTS & ACTIVITIES
In addition to websites which may be linked in the Guide and selected film reviews listed on the Movie Review Query Engine, the following resources were consulted in the preparation of this Learning Guide:
The Waltz Kings: Johann Strauss, Father & Son, and their Romantic Age by Hans Fantel.