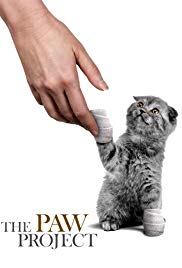 THE PAW PROJECT
SUBJECTS — Civics and Government; U.S./Politics & California;
SOCIAL-EMOTIONAL LEARNING — Caring for Animals;
MORAL-ETHICAL EMPHASIS — Citizenship.
AGE: 13+; MPAA Rating — Not rated; TWM believes it would be rated as PG-13;
Documentary; 2013, 58 minutes; Color. Available from The Paw Project Movie, Amazon, iTunes, Google Play, Netflix and others.
Note to Teachers (click to expand)
The vast majority of students will not be active in politics as adults. Many will feel that they are too insignificant or powerless to make a difference. However, at some time in their lives an issue may become important to them. It is therefore helpful for students to know that a few committed people can bring about change in both public opinion and the law.
The emotional driver for this lesson is an engaging film which shows citizens securing the passage of municipal ordinances to ban the declawing of cats in major cities across California. While not shown in the movie, these individuals have also influenced the passage of three state laws that limit declawing and the adoption of a federal policy prohibiting the declawing of wild and exotic cats. They continue to work to ban all declawing, but due to opposition by powerful national and state veterinary associations, they have not yet reached their goal.
In the vast majority of U.S. and Canadian jurisdictions veterinarians can still make money declawing cats, a brutal procedure which involves the amputation of the last set of bones in each paw. The operation leaves animals disabled for life and subject to painful chronic infections in their feet. For many declawed cats, every step is a painful ordeal.
This film is The Paw Project's educational and advocacy effort before the next round of legislative and regulatory battles. Thus, students who watch the movie will be in the interesting position of both studying and being the subject of The Paw Project's outreach and education efforts. They will experience a creative new way (the film itself) by which citizens are challenging strong and entrenched professional organizations.
Because the issue is narrow and relatively simple, the legislative, regulatory and other documents relating to the controversy are within the ability of many high school students to read. They also happen to be relatively short and well-written. The emotion generated by the film will cause students to develop passionate opinions about the dispute, offering a unique opportunity for a motivated reading of documents generated by representative government.