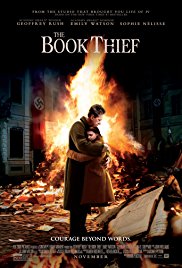 THE BOOK THIEF
Suggesting a Cross-Curricular Approach Coordinating ELA and History Classes
SUBJECTS — World/Germany, WW-II, ELA (theme, personification, symbol, & irony);
SOCIAL-EMOTIONAL LEARNING — Families in Crisis;
MORAL-ETHICAL EMPHASIS — Responsibility, Caring.
AGE: 13+; MPAA Rating — PG-13 for some violence and intense depiction of thematic material;
Drama; 2013, 121 minutes; Color. Available from Amazon.com.
HAVE STUDENTS READ THE BOOK! The best selling novel on which the movie is based is truly a wonder and is loved by millions, teenage and adult. The movie retains the remarkable human characters who are the foundation of the story, the setting, and many of the events described in the book. However, no movie can capture the depth of this novel and much has necessarily been lost in the adaptation of 550 pages of text to a two-hour film.
This Learning Guide contains materials for teaching the novel as well as the movie. The more students know about pre-WWII Germany, the Holocaust, the Blitz, and the Allies' devastating response, the more they will appreciate Markus Zusak's worldwide best-seller. Thus, TWM suggests cooperation between ELA and history instructors. However, the Guide also provides the basic historical background that can be used by ELA teachers when there is no opportunity to coordinate with a history instructor.
This Guide includes reports of actual events on which a few episodes in the story are based. These increase the veracity of both the novel and the film.